Wednesday, April 26, 2006
If your a Christain, are you sharing your faith with the lost?
This comes from Ray Comfort's web site
Living waters
let it convict you to step out of your comfort zone and share your faith with a fallen world.
This is an excerpt of an e-mail to Ray from an atheist.

"You are really convinced that you've got all the answers. You've really got yourself tricked into believing that you're 100% right. Well, let me tell you just one thing. Do you consider yourself to be compassionate of other humans? If you're right, as you say you are, and you believe that, then how can you sleep at night? When you speak with me, you are speaking with someone who you believe is walking directly into eternal damnation, into an endless onslaught of horrendous pain which your 'loving' god created, yet you stand by and do nothing.

If you believed one bit that thousands every day were falling into an eternal and unchangeable fate, you should be running the streets mad with rage at their blindness. That's equivalent to standing on a street corner and watching every person that passes you walk blindly directly into the path of a bus and die, yet you stand idly by and do nothing. You're just twiddling your thumbs, happy in the knowledge that one day that 'walk' signal will shine your way across the road.

Think about it. Imagine the horrors Hell must have in store if the Bible is true. You're just going to allow that to happen and not care about saving anyone but yourself? If you're right then you're an uncaring, unemotional and purely selfish (expletive) that has no right to talk about subjects such as love and caring."
# Posted by Alyfireman :: 4:40 PM :: |

---------------oOo---------------

Personal prayer request

This weekend a friend and I are taking a step of faith and getting a booth at a local event here in Valdez. We've got a booth and we a going to try and witness to some people. I'm not afraid to admit that I'm more than a little nervous as I've never done anything like this, and I'm not all that good at speaking to strangers. So I'm trusting that God will use me in some small way to reach out to the lost.
# Posted by Alyfireman :: 4:38 PM :: |

---------------oOo---------------

Prayers for April 25, 2006

"If then you were raised with Christ, seek those things which are above, where Christ is, sitting at the right hand of God. Set your mind on things above, not on things on the earth. For you died, and your life is hidden with Christ in God. When Christ who is our life appears, then you also will appear with Him in glory."
(Colossians 3:1-4)

Prayers for April 25, 2006
From The Voice of the Martyrs Visit: Persecution.com


Pray for CHINA
CHINA (Compass Direct)
The court judging house-church leader Zhang Rongliang acknowledged, "There is insufficient evidence and ambiguous facts," and has submitted the case to the Zhengzhou City Intermediate People's Court asking for legal advice. The Zhongmu City People's Court made the request after a two-hour court hearing in April, during which Zhang (charged with falsifying a passport) argued his right for a passport as a Chinese citizen. Zhang also denied the accusation he was behind "attaining passport through cheating" for three of his co-workers. Henan police arrested 55-year-old Zhang without charges on December 1, 2004. Only months later were charges brought against him.

Give thanks to God the court acknowledges the weakness of the charges against Zhang. Pray he will be completely exonerated and released very soon. Pray Chinese authorities will recognize they need not fear Christians.

(China Aid Association)
China Aid Association's field investigators in China report seven foreign evangelical church leaders including five Americans and two Taiwanese were interrogated for five hours on March 23, 2006. Eighty Chinese house-church leaders from 20 provinces were attending a meeting with Christian leaders from America. These 80 leaders represent 25 Chinese minority groups. The five Americans are from churches in Greensboro, North Carolina. Among them two are white Americans and three are Chinese Americans. Since the two white American pastors are still inside China and some of the released Chinese pastors are still monitored by the Chinese security agents, their names are not available to the public. CAA learned this raid was directly orchestrated by the director of the Public Security Bureau of Yunnan province and carried out jointly by the officers from the provincial public security, national security, foreign affairs office, religious affairs bureau and military police officers. According to an eyewitness, the Chinese officers' attitudes were very rude, and they refused to show their IDs and even ate all of the food prepared for the pastors' lunch. The foreign religious leaders were accused by their interrogators of being foreign religious infiltrators. At 2:00 p.m. (Beijing Time), following a five-hour marathon interrogation, all of those arrested were released, and some were followed back to their home provinces.

Pray God will protect the faithful believers who are still under surveillance. Pray authorities will see Christ in them. Pray the Lord will continue to grow His body in China.

Pray for EGYPT
EGYPT (ASSIST News Service)
Muslims and Coptic Christians have clashed in Alexandria, Egypt, after a Coptic worshipper was stabbed to death in church. Egyptian officials have blamed the attacks on extremists, but Coptic Christians say the government is not doing enough to protect them. On Saturday, April 15th, thousands of Copts joined the funeral procession for Noshy Atta Guirgis, the Coptic Christian killed during the attacks on four Coptic churches in Alexandria on Good Friday. Seventeen Copts were also injured during the attacks. Muslims clashed with Copts who were peacefully marching on Saturday along the funeral route in Alexandria. The Copts were protesting statements made by Egyptian officials about the church attacks. The BBC reported that while the Egyptian government has stated a "deranged" man was arrested for carrying out all the attacks at the three churches, some Copts believe they were carried out simultaneously as part of an anti-Christian plot by extremist Muslims. In a statement, the Alexandria Clergy Council and the Alexandria Laymen Council condemned the official statements by Egyptian officials on the attacks as "deceptive" and lacking in "transparency." According to Dr. Monir Dowoud, president of the International Christian Union, Copts in Egypt have been the victims of severe human rights abuses and oppression for many years.

Pray the Holy Spirit will give Coptic Christians boldness to proclaim their faith and the mind of Christ to forgive their enemies. Pray the witness of Christians will be to the glory and praise of God. Pray many Muslims will tire of continual violence and seek the Prince of Peace.

Pray for ERITREA
ERITREA (Compass Direct)
In addition to the jailing of another Protestant pastor in February, authorities have also jailed 70 Muslims for opposing the government appointment of the chief mufti. Informed sources in Asmara confirmed in early April the 70 Muslim prisoners arrested in the past two years are confined in one cell at the Wongel Mermera center. Most of the 28 jailed pastors and priests from the Protestant and Orthodox churches are also held at the Wongel Mermera center, where prison authorities have gathered them into one cell to keep them from "influencing other prisoners with the gospel." Asmara sources have confirmed the arrest of Pastor Daniel Heilemichel of the Charismatic Word of Power Church, taken from his home on February 23rd. "His wife is in great distress," a local Christian told Compass, noting the couple had been married just a month prior to Heilemichel's arrest.

Pray Jesus Himself will be in the midst of the imprisoned Eritreans. Pray the Holy Spirit will strengthen the Christian prisoners to be both bold and loving in their witness. Pray millions of Christians worldwide will come boldly to the throne of grace and these suffering Christians will obtain God's mercy and grace in their great need.

Pray for INDIA
INDIA (Compass Direct)
Two weeks ago, Hindu leaders attending a centenary celebration of the Rashtriya Swayamsevak Sangh (RSS) converted at least 344 tribal Christians to Hinduism. Although police were present, they took no action to enforce Orissa state anti-conversion laws that require official permission for such events. The so-called "reconversions" took place on Sunday (April 9th), as key Hindu dignitaries encouraged the Christians to blow conch shells and recite Hindu scriptures in a symbolic "return" to Hinduism—though most tribal people are traditionally animist, not Hindu. The RSS had set a target of reconverting more than 10,000 people. Observers said intense media scrutiny lowered conversion numbers.

Pray our forgiving Father will gently draw those who were pressured to "reconvert" back into His loving arms. Give thanks to God the media attention helped lower the conversion numbers. Pray the Lord will empower Christian evangelists to continue bringing many Hindus and animists into His Kingdom.

(Compass Direct)
An anti-conversion bill passed by the Rajasthan state assembly last Friday (April 7th) is unconstitutional and could lead to an "explosive situation" in the state, Christians say. Religious tensions in the state are already high following the March 16th arrest of the Rev. Dr. Samuel Thomas, president of Emmanuel Mission International. Thomas is charged with hurting the religious sentiments of the Hindu community. "In the context of the ongoing harassment of Christians in Kota district, Rajasthan, the anti-conversion law will lead to an explosive situation," Dr. John Dayal, secretary general of the All India Christian Council, told Compass.

Pray God in His omnipotent power will block the plans of Hindus in Rajasthan state who plan to use the anti-conversion bill to persecute believers. Pray Christians will know the inner peace that comes from their faith in Christ. Pray for the Hindus who have never known the joy of salvation.

(ASSIST News Service)
India's Supreme Court has granted Hopegivers' founder Bishop M.A. Thomas relief from an outstanding arrest warrant. The 72-year-old Thomas had been forced into hiding for more than two months because of death threats from radicals and persecution by anti-Christian local authorities. Meanwhile, Dr. Samuel Thomas, Hopegivers' co-founder, has now been held in jail for 33 days on the charges of "creating communal disharmony." His bail hearing has been delayed three times.

Praise God Bishop Thomas no longer has to remain in hiding. Pray Jesus will strengthen Dr. Samuel Thomas with a sense of His comforting presence. Pray the witness of Dr. Thomas' forgiving love will lead many to seek his Savior.

Pray for NORTH KOREA
NORTH KOREA (Jubilee Campaign)
This week has been designated "North Korean Freedom Week." The activities kicked off with a concert and program April 22nd in Lafayette Park (across from the White House) to appeal to the world to free all abductees held in North Korea. Throughout the week there will be many events calling attention to the plight of Christians in North Korea. There will be an all-night prayer vigil for North Korean refugees, jailed humanitarian workers and repatriated North Koreans. On the 28th and 29th there will be prayer vigils in Los Angeles and Houston, respectively. In a statement promoting North Korea Freedom Week, Charles W. Colson said, "Living here in the United States, it is hard for us to imagine that up to 200,000 people, including thousands of children, are held in the horrid political prison camps of North Korea. The religious and political oppression in North Korea is unimaginably brutal."
Pray God in His mercy will answer the prayers of the millions of Christians who are pleading for the release of their brothers and sisters in North Korea. Pray Jesus will comfort the suffering believers with His loving presence. Pray the light of Christ will shine brightly to overpower the spiritual darkness in North Korea.
# Posted by Alyfireman :: 4:28 PM :: |

---------------oOo---------------
Tuesday, April 11, 2006
Prayers for April 11, 2006

"11 The LORD will give strength to His people;
The LORD will bless His people with peace."
(Psalm 29:11)

From The Voice of the Martyrs


CHINA (Compass Direct)
A major Chinese house-church leader was scheduled for a potentially decisive court hearing April 6th, after more than 16 months in police custody. Zhang Rongliang was arrested by Henan police without charges on December 1, 2004. Only months later was he charged with "attaining a passport through cheating" and with "illegal border crossing." Chinese authorities often deny passports to well-known house-church leaders. Health problems such as diabetes and high blood pressure have grown worse while he has been in custody. Previously, Zhang had been detained five times and spent a total of 12 years in prison for his religious activities. "This will be his third hearing," said a co-worker who asked to remain anonymous. "This time I hope the court can make an independent decision based on truth and justice." Although VOM has no further news of the outcome of this trial, we are concerned for Zhang's welfare.

Pray God will soften the hearts of the authorities to release this innocent man with serious health problems. Pray Zhang's faith will continue to inspire the millions of members of the house churches he led. Pray those who attend the trial will seek the One who has given Zhang so much peace in the midst of suffering.


EGYPT (Compass Direct)
Following a three-month search, an Egyptian Christian has discovered his missing sister living with a Muslim family near her home town and now professing faith in Islam. Spurred by a brief telephone message from Theresa Ghattass Kamal saying she was being held against her will and forced to convert to Islam, Sa'eed Ghattass Kamal recently tracked his sister. He found her in the Bedouin desert area of El-Ga'ar, near his home in Wadi El-Natroun, 50 miles northwest of Cairo. Flanked by her suspected captors and with only her eyes showing through her veil, Theresa Kamal sat with her brother for 90 minutes but only spoke once. "I have converted to Islam. I have found the right path," she reportedly said in a trembling voice.

Pray Jesus will draw near to Theresa Kamal, giving her His comfort and the strength to endure. Pray God will show Himself powerful on her behalf, allowing her to get away. Pray Jesus will appear to her captors through powerful dreams and visions.


NEPAL (ASSIST News Service)
Nepali evangelist Kumar was making plans to travel from his village to the capital city of Katmandu for a worship conference in early March, when three Mao insurgents paid him a visit. They approached Kumar, and demanded a 5,000 rupee "donation," (about $70 U.S.) to support their cause. When Kumar couldn't pay, they kidnapped him. They told Kumar he should stop following the foreign religion of Christianity and join them. They also said whatever money he was getting to do gospel work, he must give to them instead. Although he was afraid, Kumar insisted he must continue doing the work of the gospel. Hearing this, the rebels took Kumar and forced him to work as their porter, carrying weapons. Kumar followed the Maoists for 15 days against his will, on their military missions, carrying rifles and pressure-cooker bombs. He had little to eat and had to watch helplessly while the Maoists threatened other villagers like himself to get food and money to support their army. Eventually, Kumar was able to borrow money to give to the Maoists so they would let him go. He was released on March 15th. Kumar returned to his wife and five young children. Kumar's experience is not an unusual one. In the past 10 years of the ongoing Nepalese civil war, the Maoist guerrilla-based insurgency, who claims to be fighting for a democratic new Nepal, has often used force and scare tactics to elicit support. For gospel workers like Kumar, pressure comes from both the Mao rebels and the Royal Nepal Army police who are loyal to the king. Any kind of gathering is looked upon with suspicion by the police, ever on the look-out for guerrillas. Mao rebels see every able-bodied man as a potential recruit or supporter of their cause. Christians are often caught in the middle.

Pray God will give Nepali Christians His peace that comes from forgiving their enemies. Pray Jesus will grow His Body of believers in spite of opposition and danger. Pray the true Lord of Nepal will bring peace to this troubled land.


NIGERIA (Compass Direct)
"If you are forcing me to marry a man who is a Muslim simply because of my decision to become a Christian, then I will rather have you kill me than accept to marry this man." These were the bitter words of Jamila Noma, now 16, to her father, Malam Noma, in an Islamic court two years ago in Jimeri village, Bauchi state of Northern Nigeria. The girl had been arrested by police and brought before an Islamic court on the orders of her father when she became a Christian and rejected his decision to marry her off to a Muslim man. These two years have left her in an uncertain situation. The court has not decided the case; she has been disowned by her father and has been forced out of the family home. Jamila is staying with her lawyer, Suleiman Wurno, who is trying legal means to stop her from being prosecuted. He also has enrolled her in vocational training to become a tailor.

Pray God will protect Jamila from harm and cause her case to be dismissed. Pray she will find employment as a tailor and the Lord will provide a Christian husband for her. Pray God will soften the heart of Jamila's father to accept his daughter and allow her to visit her family safely.


VIETNAM (Compass Direct)
Less than a year after believers in Vietnam's central Quang Ngai province saw some of their dwellings destroyed, a mob burned down five homes of other Hre minority Christians in the legally recognized Evangelical Church of Vietnam (South). Church leaders believe local authorities either allowed or instigated the burning of the five homes owned by Hre Christians in Son Tinh Commune, Son Tay district of Quang Ngai province, on the morning of March 7th. In addition, two believers who had rebuilt area homes destroyed in July 2005 had their outbuildings for storing paddy rice burned on March 4th. One of the Christians, Dinh Van Heo, lost 55 sacks of rice and recently faced severe pressure to recant his faith.

Pray God will move in the hearts of the Quang Ngai authorities to enforce justice in this province. Pray the Christians' witness of love and forgiveness will lead many to Christ. Pray these acts of violence against the property of Christians will cause people to seek the Prince of Peace.
# Posted by Alyfireman :: 10:59 AM :: |

---------------oOo---------------
Wednesday, April 05, 2006
Credo

By Ray Pritchard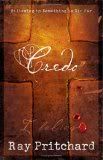 I have an embarrassing confession to make, while I had heard of the Apostles' Creed I didn't know or at least I wasn't aware I knew what it said. As it turns out the lyrics to Rich Mullins Creed are taken from this creed. So for those of you who like me don't know what it says:


I believe in God, the Father Almighty,
The Creator of heaven and earth,
And Jesus Christ, his only Son, our Lord:
Who was conceived of the Holy Spirit,
Born of the Virgin Mary,
Suffered and under Pontius Pilate,
Was crucified, died, and was buried.
He descended into hell.
The third day he arose again from the dead.
He ascended into heaven
And sits at the right hand of God the father Almighty,
Whence he shall come to judge the living and the dead.
I believe in the Holy Spirit,
The holy catholic church,
The communion of saints,
The forgiveness of sins,
The resurrection of the body,
And life everlasting.

Amen


So you may be asking why write a book on an ancient creed. Well Mr. Prithard sums it up in the first chapter:


There are three good answers to that question. First, it is the oldest and most widely accepted creed, recognized by all branches of Christianity-Protestant, Catholic, and Orthodox. For two thousand years it has served as a succinct statement of the irreducible minimum of the Christian faith. Second, it offers a broad survey of Christian doctrine. It starts with the creation and ends with eternal life. That's about as broad as you can get. As we will see, it is not comprehensive, but everything it covers is important. If you want to go back to basics, this is a good place to begin. Third, the Creed offers a radical challenge to skepticism of this generation. The people of the world doubt that we can be certain about anything. Over against that uncertainty we have the first two words of the Creed: "I believe," and that is good for the soul.



Ray Pritchard does a wonderful job of dissecting and explaining the Biblical backing for each line of this creed. In a day and age were all kinds of beliefs get lumped into Christendom this is a refreshing introduction back into Biblical Christianity. This book never backs down from the truth, but at the same is still polite.

Another thing that Mr. Pritchard does well is to take topics that scholars have written complex volumes on and boils them down so that simple minded people like me can understand it. I would highly suggest this book especially if you are sacred of big words like doctrine and theology, because this book does a wonderful job of tackling both topics, even if it is only the bare essentials of the Christian faith, without at anytime getting over complicated.
# Posted by Alyfireman :: 9:05 PM :: |

---------------oOo---------------
Tuesday, April 04, 2006
Prayers for April 4, 2006

"But God composed the body, having given greater honor to that part which lacks it, that there should be no schism in the body, but that the members should have the same care for one another. And if one member suffers, all the members suffer with it; or if one member is honored, all the members rejoice with it."
(I Corinthians 12:24b-26)



From The Voice of the Martyrs


ALGERIA (ASSIST News Service)
A presidential order that establishes new conditions for the exercise of non-Muslim religious practice was passed in the Algerian Ummah council (Senate) on March 13th, and March 15th in the Algerian National Assembly (Parliament). As a presidential order, the text would not have even been open to debate. The penal aspects of the text are: between a two- and five-year prison term and a fine of approximately (US) $7,000 to (US) $14,000 for anyone who "incites, constrains or uses seductive means seeking to convert a Muslim to another religion or who produces, stores or distributes printed documents or audio-visual formats or any other format or means which seeks to shake the faith of a Muslim." Arabic News reports the new law "is an attempt to withstand the Christianizing campaign which had witnessed notable activity recently."

Pray Christians will be faithful and loving witnesses of their Savior under all circumstances. Give thanks to God that this new law signifies many people are turning to Christ. Pray our omnipotent Father will cause the light of His Son to shine even when people prefer the darkness.


CUBA (Compass Direct)
March 31st marked 40 days of imprisonment without charge for Rev. Carlos Lamelas, an evangelical pastor in Cuba jailed for allegedly aiding refugees who sought to emigrate illegally. "An 'instructor' (police appointed) is supposed to show up to explain the charges to Carlos and his lawyer," according to a source close to the Lamelas family. Some observers believe Lamelas was targeted for harassment because he challenged the government on religious rights issues while serving as national president of his church. He told his wife Uramis during a 15-minute visit at the Villa Marita Detention Center in Havana that he was "pretty discouraged" because the legal case is not moving forward.

Pray the love and power of the Holy Spirit will fill Rev. Lamelas' mind with hope and trust in God's love for him. Pray the Lord will give his family members great courage and faithfulness. Pray God will soften the hearts of the Cuban authorities and help them see all Cubans deserve the right to worship freely.


ERITREA (ASSIST News Service)
Since May 2002, the repressive regime of President Isaias Afwerki has closed down all independent evangelical churches and refused to allow their members to meet anywhere for worship, according to Compass Direct. Although ordered to apply for legal registration, none of these churches has been granted government recognition. Evangelical believers caught by the police while gathering in their homes are arrested and detained, often held incommunicado for months without charges. Nearly 1,800 Eritrean Christians are now believed to be under arrest because of their religious beliefs and held in police stations, military camps and prisons in 12 known locations across Eritrea, according to Compass. The jailed Protestants are routinely subjected to physical beatings and severe psychological pressure to deny their religious beliefs. One of the mothers was asked to visit them and convince them to sign a document stating they will practice "individual religion" but not together with other believers. They were told there are no restrictions in reading their Bibles and praying, but they were to do it individually and always on their own. Not one signed, and they remain faithful.

Offer up prayers of thanksgiving for these faithful believers who have not denied their Lord and Savior. Pray their loving witness will lead others to seek the God of peace. Pray God will give all Christians a sense of hope that despite persecution and suffering, He is building His Church and the gates of hell will not prevail against it.


INDIA (Compass Direct)
In remanding the president of the Emmanuel Mission International (EMI) to judicial custody until April 10th, a Rajasthan court ordered the administration to keep the Rev. Dr. Samuel Thomas in a cell separate from Hindu extremist inmates allegedly plotting to assault him. Thomas' attorney, Mohammad Akram, told Compass he had pleaded in court his client be given a cell separate from jailed militants accused of violence against Christians. EMI officials said other Hindu extremists were hatching a conspiracy to falsely implicate Thomas for illegal trade in drugs. A delegation from the All India Christian Council has submitted a report to the prime minister, concluding that Rajasthan state is harassing Christians due to pressure from the ruling Bhartiya Janata Party (BJP). During a three-day tour of the Kota area, the delegation also met Samuel Thomas in police custody. Thomas told the delegation he had not been mistreated, but he was worried about EMI's orphanage and the hospital. At the hospital the delegation found patients had not received adequate care because of police presence and threats that if anyone were treated, staff members would be arrested and the facility closed down.

Pray God will continue to protect Dr. Thomas from physical harm. Pray those who never sought the Lord will see Jesus in Dr. Thomas and turn to Him. Pray God will move in power to protect and maintain the orphanage and hospital founded by Dr. Thomas' father.

(Compass Direct)
A Hindu extremist group planning centenary celebrations in April hopes to "reconvert" as many as 10,000 tribal Christians to Hinduism during the event. The Rashtriya Swayamsevak Sangh (RSS) will hold the Dharma Jogna in Orissa, India, on April 8th – 10th. Given the recent trend of mass "reconversion" ceremonies organized by the RSS and its sister organization, the Vishwa Hindu Parishad (VHP or World Hindu Council), Christian leaders fear many tribal people may be persuaded to reconvert against their will. "We are extremely worried," said the Rev. Dandia Basi Hrudaya, secretary of the Orissa chapter of the All India Christian Council (AICC). "The AICC and other Christian leaders are meeting this week to finalize plans to protect the tribals during this event."

Pray the Lord of all creation will strengthen the faith of the tribal people with supernatural courage to stand up for Jesus. Pray the Holy Spirit will send a spirit of confusion into the minds of the Hindu extremists. Pray the plans of the organizers of this event will backfire and more Hindus will seek to know Christ.


INDONESIA (Compass Direct)
A local council in West Java has warned several congregations in the Rancaekek Kencana housing complex in Bandung to abandon their "nomadic" cell group system, which allows limited numbers of Christians to meet together in private homes. In letters to the churches, the council also warned Christians to stop meeting in buildings that were converted some years ago into permanent--though unregistered--worship facilities. A joint decree issued in 1969, by the Ministry of Home Affairs and the Ministry of Religious Affairs, requires all religious groups to seek permission from neighbors and district officials before they build or establish a place of worship. Since Christians are a distinct minority in Indonesia, the decree has made it virtually impossible to secure church permits.

Pray God will keep the Christians strong in their faith and guide them to places where they can continue to meet and worship. Pray their witness of love and peace will lead many to seek their Lord and Savior. Pray the Holy Spirit will enlighten Muslim authorities to the reality of Jesus' love for them.
# Posted by Alyfireman :: 8:46 AM :: |

---------------oOo---------------