Saturday, March 11, 2006
Pinewood Derby '06
Good Evening ladies and gents, and welcome to the post race show this evening's event was quite the show with outstanding performances by all the racers.
I'd like to take the time right now to introduce to you, a hot new race team fresh out of the 1st grade. Yes, that's right it is my pleasure to announce the arrival of Team Disney, a team consisting of Dale and James as pit men/"drivers", their father has lead car designer, and mom as CEO.
Yes as you can see here they are going to be a tough crew to beat. Here they are now proudly showing off there hard work.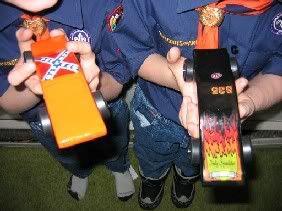 Just so you know who to root for.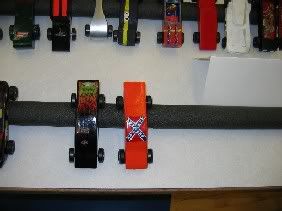 And yes here you have them on pit row.
This one almost cost them their brotherhood, it was a grueling race, but in the end they showed that they were true to there family.
To the victor go the spoils. It was a hard day of racing but in the end these fine young men walked away with two awards. James got the prestigious "Eat my dust" award. While Dale walked away with the much coveted "Best General Lee" award.
There were alot of lessons learned. For one dad hates seeing the disappointment on his kids face, but knows they have to learn these kind of lessons. Make sure the cars wieght, as close to five oz as you can get them, don't start painting until you have it set were you want to put the wieghts at.
Always ensure you have fun.
The boys didn't place at all and it was really hard to see Dale hurt that much, but in the end it's best that they learn now that you can't always win. I think next year they are going to built the vast majority of the car, with hand tools. This year they did the sanding and most of the painting, and have two very good looking cars.
# Posted by Alyfireman :: 9:23 PM :: |

---------------oOo---------------