Wednesday, March 15, 2006
God is the Gospel
Meditations on God's Love as the Gift of Himself
By John Piper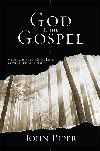 OK, this is probably the only book that I've received from Mind and Media that I've not enjoyed 100 percent. I'm not saying that the topic of this book is not relevant or that I didn't learn anything from it. To me it just seemed to drone on and on. However I did enjoy the fact that this book tackles the truth of God being the Whole Gospel.
This book centers on 2 Cor 4:4-6
4 In their case the god of this world has blinded the minds of the unbelievers, to keep them from seeing the light of the gospel of the glory of Christ, who is the image of God. 5 For what we proclaim is not ourselves, but Jesus Christ as Lord, with ourselves as your servants for Jesus' sake. 6 For God, who said, "Let light shine out of darkness," has shone in our hearts to give the light of the knowledge of the glory of God in the face of Jesus Christ.
Mr. Piper explains these verses like this
When I say that

God Is the Gospel

I mean that the highest, best, final, decisive good of the gospel, without which no other gifts would be good, is the glory of God in the face of Christ revealed for our everlasting enjoyment. The saving love of God is God's commitment to do everything necessary to enthrall us with what is most deeply and durably satisfying, namely himself. (Emphasis in original found on page 13)
Boy what else can you say but wow.
For me this book started out with a definite mission, only to wonder off toward the middle of the book. It totally just bogged down on me; in fact I almost put it down. Thankfully it refocused toward the end of the book. As a matter of fact it got down right convicting at the end, especially when he started asking questions about why do we pursue to be like Christ. Is it to brink glory to God or is it so we can be admired and liked by others.
It has been a few weeks since I put this book down and the concepts are still rolling around in my head. I really feel I did the book a disservice by reading it cover to cover, after all the sub-title of this book does say Meditations on Gods love... I think a person would benfit more from this book if it is read as a devotional rather than straight through. Here the format of this book is key, each chapter is broken down into bite sized section, that would easily only take five or ten minutes to read.
Overall this book was just mediocre to me. But don't only take my word for it, find more reviews for the book
here
.
# Posted by Alyfireman :: 8:10 AM :: |

---------------oOo---------------