Wednesday, March 29, 2006
Prayers for March 28, 2006
"Who shall separate us from the love of Christ? Shall tribulation, or distress, or persecution, or famine, or nakedness, or peril, or sword? As it is written:
' For Your sake we are killed all day long; We are accounted as sheep for the slaughter.'
Yet in all these things we are more than conquerors through Him who loved us. For I am persuaded that neither death nor life, nor angels nor principalities nor powers, nor things present nor things to come, nor height nor depth, nor any other created thing, shall be able to separate us from the love of God which is in Christ Jesus our Lord."
(Psalm 146:6-8)
From The Voice of the Martyrs
The Voice of the Martyrs Visit:
Persecution.com
Pray for AFGHANISTAN
AFGHANISTAN (ASSIST News Service and VOM sources)
Abdul Rahman, who converted from Islam to Christianity and was prosecuted in a Kabul court, has been released. He could have been sentenced to death. Rahman was arrested last month after his family went to the police and accused him of becoming a Christian. Such a conversion violates the country's Islamic laws. During the hearing, the defendant allegedly confessed he converted from Islam to Christianity 16 years ago when he was 25 and working as a medical aid worker for Afghan refugees in neighboring Pakistan. Afghanistan's constitution is based on Shariah law, which states any Muslim who rejects their religion should be sentenced to death. The prosecutor, Abdul Wasi, said he had offered to drop the charges if Rahman changed his religion back to Islam, but the defendant refused. International publicity put pressure on the court to release him, but he will be in grave danger as long as he remains in the country. Muslim extremists view Rahman as an apostate who must be killed according to Islamic law.
Thank our merciful Lord that Rahman was released from custody. Pray God will protect him and provide a safe haven for him outside of Afghanistan. Pray the exceptional worldwide publicity covering this case will awaken the world to the true nature of Islam, and bring about a spiritual revival in Afghanistan.
(Compass Direct)
Compass has confirmed the arrest of two other Afghan Christians. Another Afghan convert to Christianity was beaten severely outside his home by a group of six men who finally knocked him unconscious with a hard blow to his temple. He woke up in the hospital two hours later. "Our brother remains steadfast, despite the ostracism and beatings," one of his friends said.
Pray international media will continue to publicize the persecution of Christians in Afghanistan and other countries. Pray God will protect and strengthen His faithful followers. Pray those who are suffering for their steadfast faith will bring forth a harvest of souls finding true peace in Jesus Christ.
Pray for CHINA
CHINA (China Aid Association)
CAA learned 24 house-church leaders are still missing following a police raid on a house-church leader's meeting in Henan province. According to an eyewitness report, at noon on March 13th, a number of public security officials raided a house-church meeting at Wen county, Henan province. Eighty Chinese house-church leaders from different counties of Henan province were attending a co-workers' meeting. All of the leaders were then taken into custody after the police searched their bodies and confiscated the cash on them. While 36 from Wen county were released within 24 hours, 24 of those from other counties are still missing. None of their whereabouts are known. Last week CAA also released a Defense Statement prepared by the defense lawyers of a controversial religious group leader, Xu Shuangfu. Xu Shuangfu stated he had sustained an extortion of confession by severe torture, including denial of sleep for long periods and pouring hot pepper, gasoline and ginger juice into his nostrils. He was hung for long periods with his armed stretched and bound, shocked with electricity applied to copper wires bound around his extremities and hit with clubs on a helmet worn on his head. After seven days and nights of severe torture, he finally confessed to the unsubstantiated charges of authorizing the killing of members of the Eastern Lightning sect.
Pray the 24 Christians still in custody will know the comfort of Jesus' presence. Pray they will be released soon. Pray Xu Shuangfu will remember the apostle Peter and know Jesus' love and forgiveness.
Pray for INDIA
INDIA (Compass Direct)
A Hindu extremist group planning centenary celebrations in April hopes to "reconvert" as many as 10,000 tribal Christians to Hinduism during the event. The Rashtriya Swayamsevak Sangh (RSS) will hold the Dharma Jogna in Orissa, India April 8th – 10th. Given the recent trend of mass "reconversion" ceremonies organized by the RSS and its sister organization, the Vishwa Hindu Parishad (VHP or World Hindu Council), Christian leaders fear many tribal people may be persuaded to reconvert against their will. "We are extremely worried," said the Rev. Dandia Basi Hrudaya, secretary of the Orissa chapter of the All India Christian Council (AICC). "The AICC and other Christian leaders are meeting this week to finalize plans to protect the tribals during this event."
Pray our powerful, omnipotent God will protect all those who have chosen to believe in His Son. Pray the Holy Spirit will send a spirit of confusion among the Hindus attending the "reconversion" ceremonies. Pray Christians worldwide will join in fervent prayer that our one true God be glorified in this event.
(Compass Direct)
The Rev. Tongkhojang Lunkim was released at 1:00 p.m., on Saturday (March 18th), after being held captive for two months by the Kuki Liberation Army (KLA) in Manipur state, northeast India. Before handing him over, the KLA forced Lunkim to apologize for and stop his alleged "anti-KLA activities." The Rev. M. Haokhothong, Lunkim's son-in-law, told Compass he was grateful for those who have prayed for the release. "I met Lunkim this evening in his home, but unfortunately he is too weak and unable to speak," Haokhothong said. "He is on a glucose drip, and a nurse is attending him." Lunkim--a missionary and human rights activist--was a key spokesman for the people of Manipur.
Give thanks to God for the release of Rev. Lunkim. Pray he will know the presence and healing power of Jesus as he recovers from the trauma of imprisonment. Pray God will give him supernatural peace of mind as he forgives his captors.
Pray for TURKEY
TURKEY (Compass Direct)
On March 11th, a Turkish Muslim shouting insults against Christianity pulled a long butcher knife on two priests and a group of teenagers at a Latin Catholic church in Mersin, threatening them and their families. In a 30-minute standoff in the town on the southern coast of Turkey, Erdal Gurel entered the parish convent of St. Antoine's Catholic Church while 25 of the church's young people were rehearsing for an Easter passion play. After threatening Hanri Leylek, a priest, with a knife, cursing Christianity and chasing the youths, the 19-year-old Gurel was apprehended by police. It was unclear, however, whether he remained in custody. In a country where media often portray the tiny Protestant community negatively, some news organizations here took notice when Muslims threatened Christians at a recent book fair last week. Normally, Turkish nationalists threatening to hang local Protestants for operating a Christian literature stall at the Bursa annual book fair wouldn't have raised an eyebrow. But it wasn't long before Turkish television video and newspaper commentary were running. Some of the commentary only further fanned anti-Christian sentiment.
Give thanks and praise to God that the threatened priest and teenagers weren't harmed. Pray God will soften the heart of Erdal Gurel, bringing him to repentance and the desire for forgiveness by the blood of Jesus. Pray moderate Muslims in Turkey will not allow their country to be governed by Islamic extremists.
# Posted by Alyfireman :: 5:10 PM :: |

---------------oOo---------------
Sunday, March 26, 2006
He That Winneth Souls is Wise
"He that winneth souls is wise." -- Proverbs 11:30

There are vast multitudes in this enlightened land of ours who are in open rebellion against God. "We will not have this man, Jesus Christ, to reign over us," is the heartless cry that winds its flight from office, shop, store, factory, home, college, and the busy mart of trade. Lots of people are willing, my friends, to accept whatever they want from the Bible. They would like to codify it; they would like to sit down and eliminate that which isn't pleasant to them to receive and which they don't like to adjust their lives to, and insert something they would like. You take it as it is given, and if you don't, you will go to Hell. God almighty won't adjust His principles to suit the opinions of anybody. The Lord has made His revelation known to the world, and it is up to you and not to the Lord. He has done all He ever will or can do to save this world. He has given sunshine and rain and ground; it is up to you to plant the seed, to plow it or starve to death. God has done His part; He will do no more.


Almost sounds like this was preached today, it was actually it was preached in 1922 by Billy Sunday read the whole sermon here
# Posted by Alyfireman :: 6:32 PM :: |

---------------oOo---------------
Thursday, March 23, 2006
Prayers for March 21, 2006

"Who made heaven and earth,
The sea, and all that is in them?
Who keeps truth forever,
Who executes justice for the oppressed?
Who gives food to the hungry?
The LORD gives freedom to the prisoners,
The LORD opens the eyes of the blind,
The LORD raises those who are bowed down,
The LORD loves the righteous."
(Psalm 146:6-8)


From The Voice of the Martyrs


BELARUS (ASSIST News Service)
On March 13th, Georgi Vyazovsky of Christ's Covenant Reformed Baptist Church in Belarus was freed from a Minsk prison on completion of a 10-day sentence for conducting religious worship in his own home. After his release, Pastor Vyazovsky told Forum 18 News Service he felt "splendid" and even joked he had lost weight due to the "good diet." Held in cells with five and later 13 other inmates, he said both they and the warders were "amazed" he was there for religious activity. One of the staff remarked the judge must have gone crazy. To Forum 18's knowledge, Pastor Vyazovsky is the first person to have been imprisoned for religious worship in Belarus for 20 years. When 30 members of various Protestant churches gathered at the prison to meet Pastor Vyazovsky, police roughly moved them some 400 meters away, while some 20 special police officers stood by. Pastor Vyazovsky confirmed there has been no further attempt to prosecute church members since his conviction. However, the Pentecostal bishop of the Minsk region is now threatened with prosecution as well. Sergei Tsvor, who is also first vice-chairman of the Pentecostal Union and pastor of the Minsk-based Good News Church, told Forum 18 that police visited the free-standing residential house where his 100-strong congregation met during a service some six weeks ago. When an officer drew up a protocol against the bishop on the grounds he had no right to lead the gathering under the law on public demonstrations, Tsvor told Forum 18, "I told them that it wasn't a demonstration or a picket, but a worship service." He was summoned to a hearing at Minsk's Moscow District Court on March 9th, but the judge was busy with another case and told him he would be summoned again. He has heard nothing since.

Pray our almighty and all-powerful God will protect His followers in Belarus. Pray every Christian will be a witness of Jesus' persevering love. Pray the Holy Spirit will move in power to bring the light of Christ to all countries with a heritage of communistic atheism.


INDIA (Compass Direct)
On March 16th, Rajasthan state police officers arrested the Rev. Dr. Samuel Thomas, president of Emmanuel Mission International (EMI) and son of Archbishop M.A.Thomas, EMI's founder. The arrest took place in Noida, Uttar Pradesh state. Both Thomas and his father had gone underground after Hindu extremists falsely accused them of distributing a controversial book that alleged defamed their religion and deities. Archbishop Thomas is still in hiding. In the past few months, projects run by the ministry he founded--including orphanages, schools and a hospital--have been targeted for closure by a wide array of Hindu extremists, including some who have offered a reward of $26,000 for the heads of the archbishop and his son. Dr. Thomas, who was accompanied by two lawyers, was arrested in Noida, Uttar Pradesh state, in the driveway of the home of a lawyer who is a senior advocate of the Supreme Court of India. Five or six men, one of whom claimed to be the station house officer of the police station in Kota, Rajasthan state, tried to push Thomas into a car. One of them then put a firearm to the face of one of the lawyers and warned them not to resist the arrest. The officers neglected to follow proper procedure--showing neither their identity cards nor an arrest warrant.

Pray God will protect Dr. Thomas, giving him calm faith and the opportunity to be a witness of the keeping power of his Savior. Pray God will protect the Christian school and orphanage in Kota, Rajasthan. Pray the prayers and written protests of Christians worldwide will force the Indian government to release Dr. Thomas and allow the E.M.I. facility to remain open.


IRAN (Compass Direct)
The lawyer representing imprisoned Iranian Christian Hamid Pourmand has petitioned for his early release from Tehran's Evin Prison this month, during Iran's annual prisoners' amnesty. A lay pastor jailed 18 months ago, Pourmand continues to be allowed regular visits at home with his family for three to five days each month. Hundreds of Iranian prisoners are released each year between the February 11th anniversary of the 1989 Iranian revolution and Iranian Now Ruz (New Year) celebrations on March 21st. "We don't know how the authorities will respond to this appeal," an Iranian Christian in contact with Pourmand's lawyer told Compass. "But, we know the prison officials and guards have extended very good cooperation with Hamid these past months."

Pray God will soften the hearts of the authorities and allow Pourmand's release very soon. Give thanks to the Father for His sustaining power and the good witness Pourmand has been throughout his trial and imprisonment. Pray Pourmand's release will be just the beginning of a movement to allow more religious freedom in Iran.


MALAYSIA (Compass Direct)
Two significant legal developments have left Malaysians hotly debating religious rights and Islamic law (shariah). The first development was the enactment of a new Islamic Family Law in December that made it easier for Muslim men to acquire up to four wives. These men no longer have to prove their financial capacity or ability to treat all four wives equally. The law also made divorce far easier and gave husbands the power to freeze the bank accounts of their former spouses. Under Malaysian law, any convert to Christianity must apply to a shariah (Muslim law) court to legally renounce Islam. Many Christians prefer to remain silent converts rather than take their battle to the shariah courts, where apostasy or conversion out of Islam is punishable by whipping, fines, imprisonment and--in the most extreme application--death.

Pray God will comfort Muslim women in Malaysia with a sense of His presence in their suffering, ultimately bringing them to placing their trust in Him. Pray Christians will reach out to the rejected wives, giving them safe homes and the knowledge of Jesus' love. Pray the Holy Spirit will move powerfully in Malaysia, undermining the efforts of the authorities to make Malaysia an all-Muslim country.


UZBEKISTAN (ASSIST News Service)
The persecution of Protestants continues throughout Uzbekistan, says Igor Rotar, writing for Forum 18 News Service. Recent incidents reported to Forum 18 include the interrogation of a group of 40 Protestants for 18 days, the unlawful imposition of a fine for "security" on one woman, Protestants in a café being ordered by police to state they were in an unauthorized religious meeting, and nine Pentecostals at a social gathering whose permitted religious literature was confiscated (including copies of the New Testament). Fines were also imposed. Christian lawyer Islander Najafov told Forum 18, "No one can prevent people from visiting each other and talking about religious issues!"

Pray God will strengthen and embolden His followers in Uzbekistan. Pray God will direct them exactly when to be subject to the authorities and when to be obedient to His authority. Pray the willingness of Christians to tell of their daily walk with the Lord will lead many to Christ.
# Posted by Alyfireman :: 4:51 PM :: |

---------------oOo---------------

The Wilderking Trilogy

The Bark of the Bog Owl
The Secret of the Swamp King

By Jonathan Rogers





For me the test of a good book, especially one that's fictional, are the characters and a story that draws you in so that you feel like you're a part of the action. And well quite frankly Mr. Rogers does a fantastic job of that. From start to finish this book draws you in and takes you on an adventure. "Ha-ha-ha-hrawffff-wooooooo." Very loosely based on King David's adolescent life, Mr. Rogers uses vivid imagery and rich character detail, to create a world that just keeps bringing you back for more.

I'm not sure how much authors like to be compared to one another, but I can't help being reminded of my favorite fantasy author, from my childhood days, Piers Anthony. I think this is primarily due to the fact that both authors set their characters in places that are distinctively American. Piers Anthony's Xanth used Florida, and I for some reason picture Jonathan Rogers' Corenwald as taking place somewhere in the Deep South that however maybe were the comparison ends. And if I remember correctly Piers Anthony tended to blur the line of morality in his novels while Jonathan Rogers stays true to Biblical values.

Before Harry Potter came out parents complained that there children wouldn't read anything. Well after I was finished reading both books, I let my friend's 14 year old son borrow them and not only did he read them in just a few days, he went to the Wilderking website to find out about the third book in the trilogy, which by the way comes out on May 1st, and he was bummed out that there was only two books. Now, there are not many books out there, save maybe the Potter series that can spark that kind interest in young people. This is one author that I plan to keep my eye on, not only for myself, but I can't wait to have my children's eyes light up as they are whisked away into the adventure of a good book.

My one complaint about both books is that they ended far too soon, but don't just take my word for it find more reviews for The Bark of Bog Owl and The Secret of the Swamp King.
# Posted by Alyfireman :: 4:37 PM :: |

---------------oOo---------------
Wednesday, March 22, 2006
Help save a Christian brother

I just learned from VOM's blog of a petition that AFA has put together to get President Bush to intervene in what the Afghanistan government is trying do to Abdul Rahman. So stop what your doing and go here and send an email to President Bush intervene.

Now I understand that this is really in God's hands. But it is my hope and prayer that this will at the very minimum it will expose that fact that the persecution of Christians happens everyday all over the world. Sadly I'm afraid that it will only get worst before Christ returns in Glory.
# Posted by Alyfireman :: 6:10 PM :: |

---------------oOo---------------
Wednesday, March 15, 2006
Science for the Soul

Scientific Evidence of Human Souls
By Kevin T. Favero






OK, let me start by stating that I've enjoyed this book immensely. I found it to be a very thought provoking look at the theories surrounding the soul and free will. Mr. Favero does a splendid job of taking a topic that is very complex and breaking it down so that the everyday lay person will understand it. Some very difficult topics have been handled, quantum mechanics, biology and that horrible of all topics math.

With that being said I'm sorry to say that I found very little new evidence for a human soul. However I think the author did well at taking existing theories and explaining the holes and lack of "common sense" there is in current science. He also points out that with out free will there would be no soul. It is this premise in which the bulk of the book focuses on.

While I was semi disappointed in the content of this book, I was very pleased with how the author explains himself and the various theories out there today. Kevin Favero has a gift for taking the extremely complex subjects in this book and breaking them down so the lay person understands them. I honestly believe that both scientist and your average Joe (like myself), will find this book enjoyable.
# Posted by Alyfireman :: 8:13 AM :: |

---------------oOo---------------

God is the Gospel

Meditations on God's Love as the Gift of Himself
By John Piper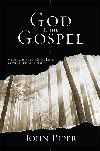 OK, this is probably the only book that I've received from Mind and Media that I've not enjoyed 100 percent. I'm not saying that the topic of this book is not relevant or that I didn't learn anything from it. To me it just seemed to drone on and on. However I did enjoy the fact that this book tackles the truth of God being the Whole Gospel.

This book centers on 2 Cor 4:4-6


4 In their case the god of this world has blinded the minds of the unbelievers, to keep them from seeing the light of the gospel of the glory of Christ, who is the image of God. 5 For what we proclaim is not ourselves, but Jesus Christ as Lord, with ourselves as your servants for Jesus' sake. 6 For God, who said, "Let light shine out of darkness," has shone in our hearts to give the light of the knowledge of the glory of God in the face of Jesus Christ.


Mr. Piper explains these verses like this


When I say that

God Is the Gospel

I mean that the highest, best, final, decisive good of the gospel, without which no other gifts would be good, is the glory of God in the face of Christ revealed for our everlasting enjoyment. The saving love of God is God's commitment to do everything necessary to enthrall us with what is most deeply and durably satisfying, namely himself. (Emphasis in original found on page 13)


Boy what else can you say but wow.

For me this book started out with a definite mission, only to wonder off toward the middle of the book. It totally just bogged down on me; in fact I almost put it down. Thankfully it refocused toward the end of the book. As a matter of fact it got down right convicting at the end, especially when he started asking questions about why do we pursue to be like Christ. Is it to brink glory to God or is it so we can be admired and liked by others.

It has been a few weeks since I put this book down and the concepts are still rolling around in my head. I really feel I did the book a disservice by reading it cover to cover, after all the sub-title of this book does say Meditations on Gods love... I think a person would benfit more from this book if it is read as a devotional rather than straight through. Here the format of this book is key, each chapter is broken down into bite sized section, that would easily only take five or ten minutes to read.

Overall this book was just mediocre to me. But don't only take my word for it, find more reviews for the book here .
# Posted by Alyfireman :: 8:10 AM :: |

---------------oOo---------------
Tuesday, March 14, 2006
Prayers for March 14, 2006

"And the LORD, He is the One who goes before you. He will be with you, He will not leave you nor forsake you; do not fear nor be dismayed."
(Deuteronomy 31:7-9)



From The Voice of the Martyrs


CHINA (China Aid Association)
The first trial of the 17 top leaders from a Chinese religious group ended March 3rd, after three-and-a-half days. Inhumane torture, including sexual abuse, was revealed by some defendants during the court trial. CAA learned from a government source that only one relative of each of the 17 defendants was allowed to attend the hearing. One defendant, Mr. Xu, immediately revoked his so-called "confession papers" as soon as the court finished reading the prosecutors interrogation records. He said the listed confessions were signed under enormous torture, when "I would rather die than live." He was hung in the air for five hours after sleep deprivation for five days and nights. Some self-claimed "torture experts" tied his fingers, toes and genitals with wire and then connected the wire to electricity. One defendant was hung in the air with a very thick blanket and then electrified after he got extremely wet. Mr. Xu's daughter, Ms. Xu Baiyin, described her father as "calm and peaceful." "In his final remark, he urged everyone in the court to believe in Jesus; otherwise, they will one day face eternal judgments in heaven. He also urged his children to continue to follow Christ without fear." Government sources have said Xu and at least three co-defendants will be sentenced to death.

Give thanks to God for these faithful followers of Jesus who are trusting in His power to sustain them. Pray that as Christians around the world petition the Chinese government and lift these believers in fervent prayer, God will have mercy on them, not only sparing their lives, but also releasing them from further prison time. Pray their witness of calm peace will move the hearts of all who watched them during this trial and authorities will come to know the One who is seeking them before it is too late.


INDIA (ASSIST News Service)
Recent events in India have caused hardships for Hopegivers International in their ongoing efforts to provide care, food and shelter for some of the orphans in their charge. In a letter to National Human Rights Commission (NHRC), New Delhi, Hopegivers Founder Bishop M. A. Thomas says: "The Rajasthan state police and the administration have unleashed a reign of terror on our institutions and attempts have been made on the lives of our senior administrators. The government-sponsored radicals, in the very presence of local police, have indulged in large scale vandalism of our properties and continue to file cases without merit against us on a daily basis. Our lives are in danger, and police officials are helpless under the political disposition in Rajasthan. The supplies to our hospitals, orphanages and schools are running out, and the children will suffer if something is not done now." Reports are circulating that building inspectors are being recruited to find fault with the orphanages, schools and church buildings in order to have them condemned and torn down. They would be replaced with yoga centers and Hindu temples. Registrations for all institutions and programs are being revoked without cause on an arbitrary basis.

Pray our loving Father will protect His children in the besieged compound, giving them food for their bodies and spirits. Pray the staff members will be witnesses of faith and hope and especially love. Pray God will answer the prayers of Christians worldwide to stop the harassment and threats of violence to this facility.

(Compass Direct)
Hindu villagers in the Eastern state of West Bengal assaulted Christian women from two different families on Thursday (March 2nd) and on February 16th. In last week's assault, six young men forced their way into the home of Kanai Kamelia in East Medinipur district, Manhandling and tried to sexually assault his wife, Renuka Kamelia. The young men reviled the Kamelia family for attending a Christian prayer meeting. Renuka Kamelia, who bled profusely after the assault, later went to the Bhupathinagar police station, where police were said to have reluctantly registered her complaint. However, the officer in charge told Compass he had no knowledge of the attack. In the February attack, 13 local residents attacked the wife of influential Christian leader Biman Bandhu Patra. Leading the attack was Patra's brother, who had long been upset about his decision to become a Christian.

Pray God will strengthen the hearts of these families as they trust in Him. Pray the Lord will move with power to change the hearts of the six young men, leading them to repentance and the joy of their salvation. Pray for a miracle of God's grace to bring Patra's brother into His Kingdom.


IRAN (Religion Today)
Baptist Press reports the U.S. Commission on International Freedom called for Washington to take action amid what it described as rapidly deteriorating conditions for religious minorities in the Islamic state, even though it acknowledged the White House's policy alternatives are limited. Threats by political and religious leaders, as well as imprisonments and violence, have increased for religious minorities in Iran in recent months, the USCIRF said in a recent news release. Conditions had already begun to decline before Mahmoud Ahmadinejad was elected Iran's president in August, but public remarks by the new president and other leaders have demonstrated things could become worse for non-Muslims in the country. There is no direct diplomatic relationship between the United States and Iran. The State Department has designated Iran as one of the "countries of particular concern," a list of the world's worst violators of religious liberty.

Pray Christians in Iran will continue to trust God in spite of opposition. Pray the Holy Spirit will strengthen them with His love and power. Pray God will bring about a great spiritual revival in Iran to break the bonds of the enemy.


PAKISTAN (Compass Direct)
On March 3rd, two Muslim seminarians in Pakistan's Punjab province were found guilty today of murdering a Pakistani Christian, who died 22 months ago after being tortured to convert to Islam. Before a courtroom packed with Islamic madrassa students and police, Judge Javed Iqbal Warraich sentenced Maulvi Ghulam Rasool and Mohammed Tayyab to 25 years in prison for their part in torturing and killing Catholic university student Javed Anjum. Prosecution lawyer Khalil Tahir Sindhu told Compass he was pleased with the verdict, but he would appeal for the sentence to be changed to the death penalty.

Praise God for this sign of His justice. Give thanks for the courageous judge who pronounced this sentence before a courtroom full of madrassa students and police. Pray the two guilty men will have an opportunity to hear and believe the Good News of Jesus' love and forgiveness.


GAZA (Compass Direct)
The Palestinian Bible Society has temporarily closed down its center and bookshop in Gaza City after it came under a bombing threat, reports acting Secretary General, Nashat Filmon. Unknown masked gunmen distributed pamphlets on Palestine Square in Gaza City last month, threatening to blow up the building housing the Bible Society if it did not close down before the end of February. Last month two small pipe bombs exploded at the entrance of the center, causing damage, but no injuries. The Bible Society's center in Bir Zeit on the West Bank was also attacked two weeks ago, with militants breaking windows and attempting to set its student facility on fire.

Pray God will make an opportunity for Bibles to be distributed in Gaza in spite of the closed Bible Society and bookstore. Pray courageous and joyful Christians will stand out in this environment, giving hope to those who live in the bondage of fear. Pray Jesus will give Muslims visions and dreams of Himself, surprising them with the joy of His patient, persevering love.
# Posted by Alyfireman :: 10:13 PM :: |

---------------oOo---------------
Saturday, March 11, 2006
Pinewood Derby '06

Good Evening ladies and gents, and welcome to the post race show this evening's event was quite the show with outstanding performances by all the racers.

I'd like to take the time right now to introduce to you, a hot new race team fresh out of the 1st grade. Yes, that's right it is my pleasure to announce the arrival of Team Disney, a team consisting of Dale and James as pit men/"drivers", their father has lead car designer, and mom as CEO.





Yes as you can see here they are going to be a tough crew to beat. Here they are now proudly showing off there hard work.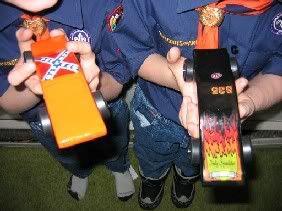 Just so you know who to root for.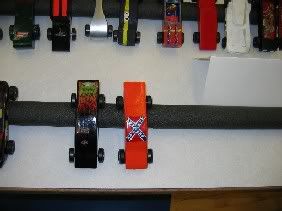 And yes here you have them on pit row.




This one almost cost them their brotherhood, it was a grueling race, but in the end they showed that they were true to there family.





To the victor go the spoils. It was a hard day of racing but in the end these fine young men walked away with two awards. James got the prestigious "Eat my dust" award. While Dale walked away with the much coveted "Best General Lee" award.

There were alot of lessons learned. For one dad hates seeing the disappointment on his kids face, but knows they have to learn these kind of lessons. Make sure the cars wieght, as close to five oz as you can get them, don't start painting until you have it set were you want to put the wieghts at. Always ensure you have fun. The boys didn't place at all and it was really hard to see Dale hurt that much, but in the end it's best that they learn now that you can't always win. I think next year they are going to built the vast majority of the car, with hand tools. This year they did the sanding and most of the painting, and have two very good looking cars.
# Posted by Alyfireman :: 9:23 PM :: |

---------------oOo---------------
Wednesday, March 08, 2006
I Wish

To all my Brothers and Sisters out there

I wish you could know what it is like to search a burning bedroom for trapped children at 3 AM, flames rolling above your head, your palms and knees burning as you crawl, the floor sagging under your weight as the kitchen below you burns.

I wish you could comprehend a wife's horror at 6 in the morning as I Check her husband of 40 years for a pulse and find none. I star t CPR anyway, hoping to bring him back, knowing intuitively it is too late. But wanting his wife and family to know everything possible was done to try to save his life.

I wish you knew the unique smell of burning insulation, the taste of soot-filled mucus, the feeling of intense heat through your turnout gear, the sound of flames crackling, the eeriness of being able to see absolutely nothing in dense smoke-sensations that I've become too familiar with.

I wish you could read my mind as I respond to a building fire "Is this a false alarm or a working fire? How is the building constructed? What hazards await me? Is anyone trapped?"

Or to call, "What is wrong with the patient? Is it minor or life-threatening? Is the caller really in distress or is he waiting for us with a 2 X 4 or a gun?"

I wish you could be in the emergency room as a doctor pronounces dead The beautiful five-year old girl that I have been trying to save during the past 25 minutes, who will never go on her first date or say the words, "I Love you Mommy" again.

I wish you could know the frustration I feel in the cab of the engine, squad or my personal vehicle, the driver with his foot pressing down hard on the pedal, my arm tugging again and again at the air horn chain, as you fail to yield the right-of-way at an intersection or in traffic. When you need us how ever, your first comment upon our arrival will be, "It took you forever to get here!"

I wish you could know my thoughts as I help extricate a girl of teenage years from the remains of her automobile. "What if this was my daughter, sister, my girlfriend or a friend? What were her parents reaction going to be when they opened the door to find a police officer with hat in hand?"

I wish you could know how it feels to walk in the back door and greet My parents and family, not having the heart to tell them that I nearly did NOT come back from the last call.

I wish you could know how it feels dispatching officers, firefighters and EMT's out and when we call for them and our heart drops because no one answers back or to hear a bone chilling 911 call of a child or wife needing assistance.

I wish you could feel the hurt as people verbally, and sometimes physically, abuse us or belittle what I do, or as they express their attitudes of "It will never happen to me."

I wish you could realize the physical, emotional and mental drain or Missed meals, lost sleep and forgone social activities, in addition to all the tragedy my eyes have seen.

I wish you could know the brotherhood and self-satisfaction of helping save a life or preserving someone's property, or being able to be there in time of crisis, or creating order from total chaos.

I wish you could understand what it feels like to have a little boy Tugging at your arm and asking, "Is Mommy okay?" Not even being able to look in his eyes without tears from your own and not knowing what to say. Or to have to hold back a long time friend who watches his buddy having CPR done on him as they take him away in the Medic Unit. You know all along he did not have his seat belt on. A sensation that I have become too familiar with.

Unless you have lived with this kind of life, you will never truly understand or appreciate who I am, who we are, or what our job really means to us........I wish you could though.
# Posted by Alyfireman :: 9:41 PM :: |

---------------oOo---------------
Tuesday, March 07, 2006
Prayers for March 7, 2006

"You have heard that it was said, 'You shall love your neighbor and hate your enemy.' But I say to you, love your enemies, bless those who curse you, do good to those who hate you, and pray for those who spitefully use you and persecute you."
(Matthew 5:43-44)


From The Voice of the Martyrs
The Voice of the Martyrs Visit: Persecution.com

Pray for CHINA
CHINA (China Aid Association)
Thirty-six house-church leaders, school students and the students' teachers were taken into custody in a raid on Wednesday, March 1st. They were released the evening of that same day, shortly after CAA called for their release. However, the 10,000 copies of the unlawfully confiscated Christian literature were not returned. Instead, they were given to a government committee, which will rule whether or not they are illegal literature. The released students continued their classes the next day. CAA also learned that a top provincial Public Security Bureau (PSB) official who directs the crackdown campaign decided to grant the release after increased international pressure.

Give thanks to God that these innocent believers are free. Give praise to the Lord for the work of China Aid Association in responding quickly to the plight of our Christian brothers and sisters. Pray God will use the literature to bring the Chinese officials out of the desert land of unbelief into His glorious Kingdom.

Pray for CUBA
CUBA (Compass Direct)
Cuban authorities jailed an evangelical pastor, who was the former president of his denomination, last week, apparently on charges of aiding illegal emigrants. Relatives of the Rev. Carlos Lamelas, however, said the supposed allegations against him are groundless. "They accuse him of getting people out of the country illegally, which is a big lie," said one. "If he had that kind of money, he wouldn't be living with hunger like he is now." Some sources believe police targeted Lamelas because he has challenged the Castro regime on religious rights issues. Police allowed Uramis Lamelas a 10-minute visit with her husband on February 27th, one week following his arrest. She said he appeared "exhausted and depressed," and he had been isolated from other inmates during his confinement.

Pray Jesus will surround Rev. Lamelas with the reality of His comforting, loving presence. Pray the family and friends of Rev. Lamelas will know the peace that comes from trusting in God. Pray God will convict Cuban authorities of their inhumanity toward Christians and lead them to Christ.

Pray for KAZAKHSTAN
KAZAKHSTAN (ASSIST News Service)
Baptist pastor Pyotr Panafidin's refusal to pay a massive fine imposed last September for leading his unregistered church in the Southern town of Taraz in Kazakhstan, led to a three-day imprisonment and the decision to confiscate his home. Detained at a court hearing on February 27th, Panafidin was due for release on March 2nd. Pastor Panafidin also faces the prospect of his home being seized for non-payment of a massive fine handed down last September for his leadership of an unregistered religious congregation. "Of course we're worried--if the house is seized, Pastor Panafidin, his wife Katya and their nine children will be homeless," a local Baptist told Forum 18 News. "If a religious community is not registered with the authorities, that is no reason to restrict it." He says the requirement for religious communities to register must be removed for Kazakhstan to meet its international human rights commitments. Other Baptists who refuse to register their congregations with the authorities on principle also face pressure from the police and public prosecutor's office.

Pray publicity will thwart the plans of the authorities, Pastor Panafidin will retain his home, and the fine will be waived. Pray the members of all unregistered churches in Kazakhstan will be witnesses to the loving reality of Jesus Christ. Pray for a powerful movement of the Holy Spirit to sweep away the spiritual darkness of this country and bring in the light of Christ.

Pray for NIGERIA
NIGERIA (Compass Direct)
On February 23rd, Muslim rioters killed 10 Christians and set ablaze nine churches in Kontagora, Niger state, in Central Nigeria. The militants in Kontagora joined their counterparts in Northern Nigeria to protest what Muslims see as the blasphemy of the prophet of Islam, Mohammed, in cartoons published by a newspaper in Denmark. "The Muslim fanatics attacked Christians and burnt churches throughout the night," Joseph Bawa, a Christian resident of Kontagora, told Compass by telephone. The militants clubbed Bawa and his family. He said, "I was beaten up by these Muslims, it is only God that saved me--I would have been killed."

Continue to pray God will protect His followers from the spirit of violence sparked by the publication of the cartoons. Pray Jesus will comfort those mourning the loss of loved ones. Pray God will work a miracle of His love and power to break the spirit of violence in the hearts of fanatical Muslims, bringing them into His peaceful Kingdom.
# Posted by Alyfireman :: 2:53 PM :: |

---------------oOo---------------
Thursday, March 02, 2006
Pot Smoking Safe?

I'm sure many people have seen the ad on TV with two boys smoking pot, when one pulls out a gun a points it at his friend. Then the boy pulls the trigger and the gun goes off and the ad than fades to black.

Well I have also seen a spoof of this, can't remeber if it was an ad on TV or some silly movie. But the jest of the spoof was that this could never happen. Well guess what It has happened.


Police say Cerda, Gonzalez and several other teenagers were smoking marijuana about 4:45 p.m. in a home on Jeannie Court in the Penland Mobile Home Park directly across the street from the Northway Mall. They were passing around several guns when Cerda put a handgun to Gonzalez's head and pulled the trigger, Markiewicz said. Read full artice here(may or may not have to register)


I'm not trying to make light of this. It is indeed tragic that one young man no longer walks this earth. It just that when I heard about this, I was struck by the sadly ironic fact that this happened while they were doing what they were doing what the were doing.
# Posted by Alyfireman :: 10:14 AM :: |

---------------oOo---------------
Wednesday, March 01, 2006
Prayers for February 28, 2006

"I will love You, O LORD, my strength. The LORD is my rock and my fortress and my deliverer; My God, my strength, in whom I will trust; My shield and the horn of my salvation, my stronghold. I will call upon the LORD, who is worthy to be praised; So shall I be saved from my enemies."
(Psalm 18:1-3)

From The Voice of the Martyrs
The Voice of the Martyrs Visit: Persecution.com

Pray for INDIA
INDIA (Gospel for India/Compass Direct/agapepress)
According to Gospel for Asia (GFA), the level of persecution against Christians in India has reached new levels in early 2006, as Hindu extremists work to incite violence against believers. The fight centers on Hindutva, literally "Hinduness," a growing ideology that has a purely Hindu nation as its goal. At a recent large rally, Hindu nationalists called on the states to make their own anti-conversion laws. Please pray for the following situations:


1. On February 17th, a band of radicals destroyed a church building and Christian school in Kota, District of Rajasthan State. (Gospel for India)
2. A GFA native missionary and several other believers are in jail because of a radical plot to frame them for the murder of a child. The 16-month-old child of a Muslim family had suffered from a prolonged illness. When the parents quarreled with a Christian pastor over some land, members of the local Hindu nationalist party advised them to dash their child against some rocks, breaking its bones. They then filed murder charges against Pastor Kasota and 10 others. (Gospel for India)
3. On February 8th, an Indian woman from Canada and three youths beat the pastor of an independent church in Punjab so severely that he required hospital treatment. The woman had been involved in a land dispute with the church and hired the youths to beat up the pastor who would not give up land that legally belonged to the church. (Compass Direct)
4. More than 10,000 students are graduating from Hopegivers International Seminary this month. Most of the students are Dalits, people considered below the fourfold Hindu caste system. (Agapepress)



Pray God will put a hedge of protection around all His faithful ones in India. Pray the Dalits, who know God's great love for them, will share their faith in Jesus throughout all India. Pray the Holy Spirit will open the hearts of many Hindus to the reality of the gospel.

Pray for NIGERIA
NIGERIA (Compass Direct/ASSIST News Service/Religion Today)
Christians and churches have been the subjects of recent violent attacks. Please pray for the following:


1. The Nigerian government last week said intelligence agents had found that Kano state in Northern Nigeria is asking foreign Islamic governments for help to train militants in"intelligence" and "the practice of jihad." (Compass Direct)
2. A Catholic priest and 50 other Christians were killed February 18th, when Muslim extremists, enraged by caricatures of the prophet Muhammad, burned 31 churches in two cities in Borno state. (ASSIST News Service)
3. Christian mobs in Onistsha attacked Muslim motorists and traders on February 22nd, leaving more than 30 people dead. (Religion Today)



Pray the Lord will comfort all those who mourn for their loved ones. Pray God will give all Christians in Nigeria His special power and grace to forgive their attackers. Pray God will convict the vengeful Christians of their betrayal of Jesus' love for them and all people.

Pray for PAKISTAN
PAKISTAN Violent protests against the cartoons of Mohammad that targeted Western businesses and institutions have spread to Christians who are seen as followers of a Western religion. Please pray for the following:


1. On February 13th, Muslim college students and Islamic militants vandalized missionary-run Edward's College in Peshawar, smashing windows in various buildings. Two days later protestors in Peshawar damaged St. Michael's Convent School, St. Elizabeth's Girls' College, and a mission hospital run by the Church of Pakistan. A United Presbyterian girls' school in Kasur was also damaged by a mob of several thousand Muslims. (VOM Canada)
2. A crowd of Muslims in the southern province of Sindh, burned down two churches and a convent school February 22nd, reportedly over an incident of Koran desecration. Local sources said the violence occurred after a Muslim was arrested for allegedly burning pages of the Koran and trying to frame his Christian father-in-law. (Compass Direct)
3. Yousaf Masih, a Christian detained on blasphemy charges, has been released on bail. Two days later, 65 of 85 Muslims, detained for the assault on churches in Sangla Hill, were also released. The blasphemy charge against Masih, a semi-illiterate farm hand, provoked a mob of 2,000 Muslims to attack and set fire to three churches, a convent, two schools, a hostel for girls and several Christian homes. (Religion Today)



Pray Christians in Pakistan will bless the Lord with their faithful witness to His amazing love for His enemies. Pray moderate Muslims all over the world will speak up in protest against the evil violence of Islamic extremists. Give thanks to God Yousaf Masih has been released, and pray God will protect him from any retaliation by the Muslims.
# Posted by Alyfireman :: 7:20 AM :: |

---------------oOo---------------