Friday, December 30, 2005
Review of Spiritual Counterfeits Project
SCP (Spiritual Counterfeits Project) Journal (Vol. 28.4-29:1 2005)
I'm pretty excited about having the opportunity to review this product. I should start by airing out a few problems I have with SPC. The biggest issue I have is their
web site
, which I feel should be more informative and user-friendly. They do offer some sample articles of their journals, but I feel they should offer more information.
Now that I've gotten that off my chest let me tell you about some of the positive stuff that SPC has to offer. One of the coolest things I've found is the SCP Access Info and Counseling Hotline. If you have a question or problem with a cult you can call them up and talk to a real live, flesh and blood person. The other thing that stands out is the fact that the people they employ have been saved from the different cults that they provide info about.
OK, now to the important stuff what I thought of the articles in this issue:
The Soul under Siege Can "the war on terror" be won?
By Lee Penn
I'm sad to say that I missed reading part I, but the fact of the matter is Part II is a complete and separate article in and of itself.
In a nutshell this article is about the players that are pushing not only for a one world government but also a one world religion. It is very well written and quick to the point, and I thought it more than covered the topic.
From Old Gnosticism to New Age "An Historical Analysis of the Impact of Secret Orders and Mystery Religions from the 6th Century to the Modern Era".
By Alan Morrison
If you think the title is long you should have read the article. While over all the info within is quite fascinating I felt it got to over detailed at times. However it is interesting to see how Gnosticism has had so much influence on the modern thought process, including Darwinism.
Despite how I feel about the article being long winded, I did learn a lot on were the concept of a "heaven on Earth" came from.
The Suicide Option "When Life has Lost Meaning"
By Josh Ong
This is by far and away the most touching article in this issue. The author here is a very brave young man, who sadly reached the point of no return and tries to kill himself. Mr. Ong bravely shares his journal entries both before and after he attempted suicide. In the mist of the darkness this young man gets a glimpse of hope. Thankfully out of this Josh comes to now Christ. It is varying interesting seeing what loneliness and rejection (not to mention the enemy) can do to the human mind.
Over all I am well pleased with this issues. The articles do a great job of providing a lot of information in a very limited space. I have already started to read the newest issue and hope to have it reviewed shortly. I will offer one note of warning, this Journal is geared to those that are very interested in apologetics; I believe most others would find the depth of the issues covered by SCP to be boring and uninteresting.
For more reviews go
here
.
# Posted by Alyfireman :: 2:52 AM :: |

---------------oOo---------------
Saturday, December 24, 2005
Fed up

Sorry if this isn't a nice happy go lucky CHRISTmas post but, *sigh* I just ran into a friend of the faimly's and it would seem that her loving caring husband just up and left her and their five kids. That just PISSES ME OFF. What is happening in Amercia when a men can't or won't be men and stay commited to their wife and kids they've committed too.

Well I quess it's one more sign that we need Christ like never before. I also feel a burden to be more forward with sharing my faith.
# Posted by Alyfireman :: 1:05 PM :: |

---------------oOo---------------
Friday, December 23, 2005
Christmas is Less Than a Week Away

Were are your thoughts this Christmas season. Maybe your rushing around tring to found those last minute, or if your like me your wondering what you'll be getting this year.
How many times have you thought about Christ.
# Posted by Alyfireman :: 12:13 AM :: |

---------------oOo---------------
Thursday, December 22, 2005
Prayers for December 20, 2005

"For unto us a Child is born,
Unto us a Son is given;
And the government will be upon His shoulder.
And His name will be called
Wonderful, Counselor, Mighty God,
Everlasting Father, Prince of Peace.
Of the increase of His government and peace
There will be no end,
Upon the throne of David and over His kingdom,
To order it and establish it with judgment and justice
From that time forward, even forever.
The zeal of the Lord of hosts will perform this."
(Isaiah 9:6-7)


From The Voice of the Martyrs
The Voice of the Martyrs Visit: Persecution.com


Pray for BELARUS
BELARUS (ASSIST News Service)
The lower house of the Belarusian National Assembly has passed a tough new security bill making "discrediting the Republic of Belarus' a criminal offence." Belarus' security forces (KGB) will have the power to act against those who commit "crimes against the state," e.g., by reporting repression and persecution. Last year the 600-strong New Life Church in Minsk was refused registration, and no one would rent premises to them. They purchased a cowshed where they started meeting and worshipping. The authorities then fined the church for allegedly violating the Land Code, as a cowshed may not be designated for religious use. The church's pastor, Vyacheslav Goncharenko, has been fined frequently. According to Forum 18 (F18), the Minsk City Administrative Committee ordered the sale of the cowshed. The state will now confiscate New Life's property. F18 recently saw a report written by a top religious affairs official expressing regret officials have not been active enough in controlling and repressing religion. He complains of the state's failure to return an alternative Orthodox community to the Moscow Patriarchate, failure to stop Baptists conducting two or three services a week, "freely and systematically distributing religious literature," and conducting "an illegal water baptism" lasting over four hours with over 300 participants. He describes the situation as "depressing" and vows to ensure religion is brought under control by the end of the year.

Pray God will use the witness of faithful Christians to demonstrate His love and grace to those who oppose Him. Pray they will keep growing in wisdom, grace, patience and faith in their Redeemer.

Pray for INDONESIA
INDONESIA (VOM-Canada)
Unknown attackers set fire to the Beth Eden Protestant Church in Manado, Indonesia, on the night of December 8th. There were no injuries, even though the pastor and his family were living in the building. However, the building received extensive damage. Stephen Liow, the church's pastor, told Asia News he had been receiving anonymous calls in the past few months from people threatening to burn down the church building. The Christmas season in Indonesia has often been a time of suffering for Christians who are targeted by Islamic militants. Due to the heightened threat of terrorism, thousands of police officers have been put on alert. A police spokesman said, "Churches and other worship buildings have become our top security priority along with entertainment centres, shopping compounds."

Pray the Lord Jesus will protect His followers as they celebrate his birth. Pray Pastor Liow will have the heart of Christ as he leads the congregation through this stressful time. Ask that the faithfulness of believers will spark a new work of the Holy Spirit throughout Indonesia.

Pray for IRAN
IRAN (Compass Direct)
The United States has approved emergency resettlement for a family of four Iranian Christians left stranded in Turkey since an October deportation order. Widow Zivar Khademian, together with her daughter Fatemeh Moini, 19, and sons Hossein and Kazem Moini, both in their early 30s, had fled to Turkey in January 2003. After arriving in Turkey, the family was twice refused UNHCR refugee status, despite their status as former Muslims who had converted to Christianity. Under Iran's strict Islamic laws, anyone who abandons the Muslim faith faces the death penalty.

Give thanks to God that Zivar and her children can come to the United States. Pray they will find strong Christian friends to help them in their adjustment to a new life here.

Pray for IRAN
IRAN (Compass Direct)
Last week during Friday prayers in Pakistan's Punjab province, Muslim clerics, flanked by government officials, demanded the public execution of a Christian accused of blasphemy. An Islamist group leader has since called for a nationwide protest tomorrow urging the execution of Yousaf Masih, a Christian accused of burning pages from the Koran three weeks ago. The accusations triggered Muslim violence in the Punjabi town of Sangla Hill that destroyed four churches. Eyewitnesses have said they saw a Muslim who owed Masih a large amount of money throw a burning match into a room containing a Koran. Sangla Hill police have arrested and tortured four of Masih's six brothers, prompting the alleged blasphemer to give himself up in exchange for their release.

Pray God will move in His loving power to prevent this execution and the truth regarding the circumstances will be made known. Pray the Lord will strengthen Christians, leading many to Christ.

(VOM-Canada)
The earthquake that hit the Kashmir region of India and Pakistan October 8th killed thousands and left more than 3 million homeless. With the urgent need for shelter, Pakistani authorities are reportedly evicting hundreds of Christians from their homes to make room for the homeless. Bishop Anthony Lobo of Islamabad-Rawalpindi told Catholic news agencies at least 40 families in a district near Joharabad in Sind province were forced out of their homes. He believes officials prefer this alternative because it saves the time and money needed to erect shelters for the refugees. Bishop Lobo said, "We are the most vulnerable people, we are very poor and we are easy targets." Some are seeing this as a slap in the face, as Christians were actively involved in relief operations for those suffering from the earthquake, regardless of their religious affiliation. Bishop Lobo has begun assembling a legal team to prevent similar evictions in other Christian communities.

Pray God will give Bishop Lobo great wisdom as he deals with government officials. Pray our faithful Lord will provide housing and basic supplies for those who trust in Him. Pray this will result in an opportunity to promote the truth of God's Word in Sind province.

Pray for IRAN
IRAN UZBEKISTAN ASSIST News Service)
The situation of Uzbek Christians has deteriorated considerably since the May demonstrations in the city of Andijan in the Ferghana Valley. Christians are now under much tighter control, and they are getting more "invitations" to come to the police office to answer questions and receive more fines. In the last few months, there have been more frequent incidents of physical and psychological violence against Christians to force them to renounce their faith. President Karimov is very afraid of losing his job," said Esther Amado, Open Doors coordinator for Central Asia. "For this reason, he deals harshly with everyone he considers a threat to his regime." During these past months, many congregations have lost their registration and worship services have more frequently been interrupted by the police. Not only church leaders, but also those present in the meeting are taken to the police station to be interrogated. Police officers sometimes exert extreme pressure on Christians. Kural Bekjanov, 19, was held in prison and tortured for one month this summer. Fellow inmates also beat him terribly when they found out about his Christian faith. Bekjanov's physical and mental recovery may take years. His family is in serious financial difficulty because they had to pay for Bekjanov's food when he was detained and for medical treatment since his release.

Pray Uzbek Christians will remain strong, knowing their help comes from the Lord. Pray God will strengthen them to continue to bear fruit for His Kingdom. Pray the hand of the Lord will be upon President Karimov, bringing him out of darkness into His glorious light.
# Posted by Alyfireman :: 2:13 PM :: |

---------------oOo---------------
Saturday, December 17, 2005
Prayers for December 14, 2005

"The Lord is my strength and song,
And He has become my salvation;
He is my God, and I will praise Him;
My father's God, and I will exalt Him."
(Exodus 15:2)

From The Voice of the Martyrs
The Voice of the Martyrs Visit: Persecution.com

Pray for EGYPT
EGYPT (Compass Direct)
Under threat from Egypt's security police for holding services at his house church, a Protestant pastor has been run down by a taxi in Cairo, and subsequently died of internal bleeding and a broken skull. Pastor Ezzat Habib, his son Ibram Habib and a friend were crossing the street in Cairo's Matereya district on the evening of October 23rd, when a parked taxi pulled into the street and hit them from behind. The 58-year-old pastor was immediately taken to a local hospital where he underwent surgery the following morning but died later that day. The incident culminates two years of harassment, during which Pastor Habib was jailed and tortured.

Pray God will comfort the family and friends of Pastor Habib. Pray Christians in Egypt will remain confident in their Savior despite harassment and murder. Pray Muslims will realize they can't kill the soul (Matthew 10:28).

Pray for INDIA
INDIA (Compass Direct)
Christians in the Kakradara area of Jhabua in Madhya Pradesh state are living in fear after extremists barred access to their new church and beat up their pastor and visiting evangelists after a church dedication ceremony on November 5th. The pastor and evangelists were stopped by 12 men carrying long sticks. As Pastor T. Samuel, the district coordinator for Jesus Redeems Ministries, began answering their questions, one of the assailants hit Pastor Ramesh Bhuria from behind. The mob then beat all five Christians. Later, the extremists and other residents visited Bhuria's home and threatened to "cut (him) into pieces" if he continued his Christian activity in the village. The same threats were issued to other church members.

Two militant Hindu groups struck churches in Chattisgarh and Madhya Pradesh states on Sunday (December 4th). At least 25 members of the Hindu extremist group Dharma Sena attacked a church in Raipur, Chattisgarh state, severely beating five Christians. After beating four Christians in the church, the attackers took them and a pastor from another area church into a Hindu temple, where they tried to force them to bow down to idols. Also on Sunday, a group of 15 extremists from the Rashtriya Swayamsevak Sangh attacked a pastor in Jhabua district of the north central state of Madhya Pradesh. Police declined to arrest any of the militant Hindus, but instead detained the pastor, Anil Mehra of Indian Evangelical Team, for more than 10 hours for "disrupting public peace."

(Gospel for Asia)
Not long ago 60 new believers in the Indian state of Himachal Pradesh were threatened with death if they did not return to Hinduism. We thanked God when He answered our prayers and the Christians were spared. Now, however, the place where that church was meeting has been forcefully taken over by radical Hindus and turned into a temple. It is the first time in the 26-year history of Gospel for Asia that a place of worship has been taken over and defiled as a temple. The Believers Church pastor, Ramesh Masih Bhatti, and his family have been forced to move from the building, which was their home for the past 25 years, and are now living with relatives. Local officials have done nothing about the takeover, having apparently sided with the Hindus. The leader of the Hindus in Himachal Pradesh is now threatening a massive, village-by-village campaign to force Christians to convert back to Hinduism.

Pray Christians in India will stand firm knowing they are children of God, not recognized by the world but beloved of their Father. Pray their witness will lead many to Christ. Pray the Holy Spirit will move powerfully in India, bringing glory to God.

Pray for NIGERIA
NIGERIA (Compass Direct)
Pastor Zacheous Habu Bu Ngwenche may find himself back in police detention if he does not produce a convert from Islam abducted from his house by Muslim militants in September. The 31-year-old pastor of Foursquare Gospel Church in Akwanga, in central Nigeria's Nasarawa state, was arrested twice in September for harboring a Muslim, Bature Suleimanu Idi, who converted to Christianity. After the second arrest, he spent seven days in a cell in Lafia, the state capital. Muslim militants pressured police into arresting him the second time even after officials had confirmed that Bature Suleimanu Idi had not been coerced into converting to Christianity. "I have now been told to produce the Muslim convert, even when the police know that it is the Muslims that abducted Idi," Ngwenche said. "My fear is that he will be killed." (Click here)

Pray God will protect Idi and give him great courage to remain faithful to Jesus. Pray Pastor Negwenche will know the presence and peace of God as he deals with the Muslims who are harassing him. Pray the publicity surrounding these unjust accusations will cause Muslims worldwide to question their beliefs.
# Posted by Alyfireman :: 8:17 PM :: |

---------------oOo---------------
Thursday, December 08, 2005
'TWAS THE NIGHT BEFORE CHRISTMAS (BATTERIES NOT INCLUDED)

by Tim Bete




'Twas the night before Christmas, when all through the house,

Not a creature was stirring, not even my spouse;

With only six hours left, until morning light,

Assembling kids' presents would take me all night.



19,000 pieces -- bolts, washers and screws,

To be put together, and me with no clue;

All I had for tools were some needle-nose pliers,

A Swiss Army Knife and a Phillips screwdriver.



When out on the lawn there arose such a racket,

I threw down my pliers and put on my jacket;

I swung open the door, to check out the noise,

And saw a red-suited man, bringing more toys.



I shouted, "Hey, you on my lawn, what's the idea!"

As my shrubs were being eaten by eight small reindeer;

The big man looked up at me and said with a smile,

"There's more to assemble -- it will take you a while."



"My kids don't need more toys," I countered right quick,

But he wouldn't hear "no," that stubborn Saint Nick;

"These new toys have detailed instructions," he said,

And he winked as he lifted a bag from his sled.



Then he pulled a bunch of woodchips out of his bag,

"It's a dollhouse," he said, as he looked at the tag;

"It has 6,000 small pieces, plus one or two,

You can make it if you have a gallon of glue."



"And, there are no axle holes on this toy car,

With only two wheels it won't go very far;

Perhaps you can whip up some rubber for tires,

I'm sure you can do it before you retire."



"But Nick," I pleaded, "don't you have simple toys?

Can't they build simple things -- those elves you employ?"

"How 'bout a ball, a rag doll or gun that shoots darts,

Or some other present made of only one part?"



Santa said, "Those kinds of toys are passé these days,

It's complicated gadgets that are all the craze;

So, please take these here toys and I'll be on my way,

I have houses to get to and visits to pay."



"I don't want any more toys!" I yelled quite in shock,

Then I slammed the door shut and I secured the lock;

And I took off my coat and went back to my bench,

And tried to read the directions -- printed in French.



Then just as I found I was missing a screw,

That old coot came sneaking right down through my flue;

"You forgot all these toys," said the man dressed in red,

Then he put his sack right down and here's what he said.



"You're not alone staying up all through the night,

Dads all over the world are in the same plight;

They don't have the right tools, or any instructions,

They're eyes are bleary and they're minds don't quite function."



Then he left me there speechless, alone with my work,

And filled all the stockings, then turned with a jerk;

And laying his finger aside of his nose,

And giving a nod, up the chimney he rose.



He sprang to his sleigh, to his team gave a whistle,

And away they all flew like the down of a thistle;

But I heard him exclaim, as he jumped in his sleigh,

"You'll need 62 batteries -- all triple A."


Any parent will enjoy this. Thanks to Mr Bete for allowing me to use it.
# Posted by Alyfireman :: 10:52 AM :: |

---------------oOo---------------
Tuesday, December 06, 2005
Prayers for December 6, 2005

"When He opened the fifth seal, I saw under the altar the souls of those who had been slain for the word of God and for the testimony which they held. And they cried with a loud voice, saying, 'How long, O Lord, holy and true, until You judge and avenge our blood on those who dwell on the earth?' Then a white robe was given to each of them; and it was said to them that they should rest a little while longer, until both the number of their fellow servants and their brethren, who would be killed as they were, was completed" (Revelation 6:9-11).

"Being confident of this very thing, that He who has begun a good work in you will complete it until the day of Jesus Christ" (Philippians 1:6).

From The Voice of the Martyrs


EGYPT (Compass Direct)
Hany Samir Tawfik, a 29-year-old Egyptian Copt, has been released from jail after being held without charges for 28 months. He was set free June 28th, from Gharbaliat Prison near Alexandria. His release came seven months after his case was first publicized outside Egypt. He had been arrested by Egypt's State Security Investigation (SSI) authorities on March 3, 2003. A Coptic Christian who had gone to Saudi Arabia to work, Tawfik was deported back to Egypt in the summer of 2002, after requesting asylum from the U.S. Embassy in Riyadh. He was promptly detained for interrogation at Cairo's notorious SSI headquarters but released after 52 days. Seven months later, Tawfik was again arrested under unknown accusations.

Thank God for his release. Pray Tawfik will continue to seek a closer walk with Jesus and be the fragrance of Christ to everyone he meets.


INDONESIA (ASSIST News Service)
VOM recently reported that on November 8th, two girls were attacked on their way to a Christian school. Christian Solidarity Worldwide (CSW) reports Siti Nuraini, 17, a Muslim, died in Poso Kota general hospital November 9th. Her Christian friend Ivon, also 17, remains in critical condition. This incident closely followed the beheading of three Christian schoolgirls on October 29th, and represented a further escalation of violence. The Reverend Rinaldy Damanik, Moderator for the Central Sulawesi Christian Reform Church, and Chairman of the Central Sulawesi Churches Crisis Co-ordination Centre, has been in close contact with Christians and government officials in Sulawesi and has appealed for a stop to the violence. He stressed security officials needed to act promptly to ensure those guilty of the attacks are brought to justice and also to try and prevent further attacks. As reported in the Jakarta Post, Presidential spokesman Andi Mallarangeng said the President had ordered security forces to bring the perpetrators to justice and urged residents not to launch revenge.

Pray the family and friends of Siti Nuraini will long for the love and mercy of Jesus. Pray the Lord Jesus will touch Ivon with His healing power. Pray God will use this attack to build His Kingdom and their suffering will not be in vain.

An international Christian human rights organization is urging the immediate release of three wrongly accused Indonesian Christian Sunday school teachers who have lost their appeal to overturn charges. This means a three-year prison term for the women—Dr. Rebekka Zakaria, Eti Pangesti and Ratna Bangun. They are currently serving a three-year prison sentence in the Indramayu district of West Java, having been wrongly convicted of "attempting to coerce children to change their religion" under the Indonesian "Child Protection Act." Christian Freedom International (CFI), reports that on November 22, 2005, the three Sunday school teachers lost an important appeal to have their sentences reduced or overturned by a higher court.

Pray God will soften the heart of the judge who will hear the next appeal, giving him compassion for these innocent women. Pray they will be comforted and made aware of the many people who are praying for them. Pray the Lord will minister to the children while their teachers are in prison.


IRAN (VOM-USA)
An Iranian Christian convert was kidnapped from his home in northeastern Iran last week and stabbed to death. His bleeding body was thrown in front of his home a few hours later. Ghorban Tori, 50, was pastoring an independent house church of converted Christians in Gonbad-e-Kavus. Within hours of the November 22nd murder, local secret police arrived at the pastor's home, searching for Bibles and other banned Christian books written in the Farsi language. According to one source, during the past eight days representatives of the Ministry of Intelligence and Security (MOIS) have arrested and severely tortured 10 other Christians in several cities, including Tehran. (Click here for original story posted on 12-05-2005, for most recent update, click here.)

Pray the Lord will comfort Tori's family and friends. Pray Christians in Iran will continue courageously, boldly and lovingly, confident in their Savior. Pray the Holy Spirit will move in victorious power to overcome the forces of evil in Iran.


RUSSIA (Religion Today)
The Russian government reports that within the coming weeks it may begin tightening control of foreign missionaries and religious organizations. According to reports, the Justice Ministry is considering adopting stricter rules on granting visas to foreign missionaries—an action that, if effective, would lead to the limitation of missionaries to Russia. The government also expressed plans to make the suppression of religious centers easier while causing registration of religious organizations more difficult. "It sounds like it's all going back like it was during the Soviet time," commented Sergey Rakhuba, vice president of Russian Ministries. He believes the Russian Orthodox Church is involved in the proposal. Rakhuba states: "Even if restrictions on foreign missionaries are forthcoming, church growth and evangelism in Russia will not be hindered. I don't think that it will affect evangelism because you cannot stop people from talking about Christ. You cannot stop people talking about their experiences with Jesus. And that's what Russian Ministries is doing."

Pray God will lead the foreign missionaries to begin intensive training and discipling of Russian believers to be pastors and evangelists among their own people. Pray the Holy Spirit will move in power in the Russian Orthodox Church, bringing many to know the joy of their salvation. Pray Russian Christians will be bold and loving as they share with others their experiences with Jesus.
# Posted by Alyfireman :: 5:01 PM :: |

---------------oOo---------------



You are...Edmund. Thoughtful and philosophical, you
have made mistakes in the past but have
straightened things out and are now where you
need to be. You are content to be a wise
counsellor, rather than a great leader, though
you can be either if you must.


Which Chronicles of Narnia character are you?
brought to you by Quizilla


Stolen from the great Flannel Avenger
# Posted by Alyfireman :: 4:41 PM :: |

---------------oOo---------------

What's the Deal with Wicca? A Deeper Look into the Dark Side of Today's Witchcraft.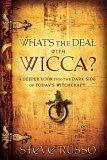 By Steve Russo


I started reading this book knowing noting about Wicca. After reading it I'm still no expert, but I do have a strong foundation to build upon. Mr. Russo does a great job of explaining Wicca and giving background information on its origin, as will as showing how it's gaining acceptance with not only young people but society in general.


This book easily reaches its target audience, which I would say to be teenagers who have an interest in Wicca. As a matter of fact I wish I had read chapter seven: A Sense of belonging, when I was at that age.


Do you feel like you belong and really know who you are? This is another area of spiritual deception that we sometimes fail to recognize. If the devil can keep us confused about our true identity, he'll keep us frustrated, lacking confidence, and we will not experience a satisfying and fulfilling life.

Hearing something like this could have saved me and others around me a lot of heartache.

This book does a great job of being biblical, without sounding preachy. You can really tell the author has a heart for young people.
# Posted by Alyfireman :: 1:08 PM :: |

---------------oOo---------------