Saturday, October 29, 2005
How do you Picture Christ
One of my biggest pet peeves is how Hollywood betrays Jesus. Even back in the day, Christ was this frail dude typically with blue eyes.
Ok, let's think about it Jesus was raised by Joseph to be a carpenter this was back before power tools and at a time when children helped out at a young age. In the book The Bible or the Axe William Levi tells how he and his brother were shepherds at ages five and six, just to give you an idea of how young He may have been.
So this is how I picture Jesus, first of he a Jew so had at least dark hair and eyes, and probably a darker skin tone. I also picture him as being a rather big person, after all cutting and sawing on wood, not to mention cutting trees down, would have build muscles. I picture his hands to have calluses on calluses, the kind of hand that swallows yours when you shake it.
Ok, let's deal with Jesus' character first off as
Flannel
points out He was God. He was the same God from the Old Testament, which means He was not only loving, but just as will. I know that it's popular to focuses on Christ's love, but think about it when He was dealing with people He knew what was in their hearts. Think about 1 Peter 5:5 Likewise
, younger ones, be subject to older ones, and all being subject to one another. Put on humility
. For God resists proud ones, but He gives grace to the humble.
Now with this in mind think or better yet reread the gospels, I think you'll find a difference in how Jesus treated the Pharisees, and how he treated for example the woman in John 8. As well as some of the things he said to the leaders of that day.
One last thing, by keeping in mind that Jesus was God, and their for the same yesterday today and forever, you can easily see that what Christ did in the temple when He cleaned house, He was not sinning(I've heard people that would call themselves Christians say this). He was merely being the holy and just God He has always been.
This has been brought to you via the great Flannel Avenger's Blogsphere Bible Study.
# Posted by Alyfireman :: 2:42 PM :: |

---------------oOo---------------
Friday, October 28, 2005
Confused
Ok I just don't understand this, the Salvation Army bad. Selling sex toys ok?!?
# Posted by Alyfireman :: 2:04 PM :: |

---------------oOo---------------
Thursday, October 13, 2005
Dear Mr. Maximus
The Holy Bible has served us well just as it is." Well, isn't that nice. I mean, besides the fact that the Holy Bible wasn't given to us all at once, as it is. For about 500 years, in fact, the canon didn't exist in it's present configuration. But I guess we can ignore such history, and just contract 2000 years into today.
Oh, and what about that thing in Matthew 27:25? I mean, if it's served us just fine so far, does that mean the anti-Semitic discrimination and violence inspired by this verse is okay? Are we not allowed to look at the historical person of Matthew and notice that he had a very confrontational relationship with Pharisidic Jews, which may have led to such animosity in his writing? Or do we just accept that the Jews really are at fault, and all Jews should be punished?--Maximus' comment


So what your saying is that because certain groups use parts of the bible to spew there hatred and venom. Than we should just disregard that part of it, I don't deny the fact that people have and still are twisting God's word to suit their own purpose. Not everyone likes John 14:6 "Jesus saith unto him, I am the way, the truth, and the life: no man cometh unto the Father, but by me." So does that mean we should take that out or say that it is not true?

2Ti 3:16 All scripture [is] given by inspiration of God, and [is] profitable for doctrine, for reproof, for correction, for instruction in righteousness:

I'm sorry you may think I'm foolish or naïve, but I take the Bible to be the perfect word of God. It bothers me when people tamper with it. I believe in a God that can do anything, including preserving His word from mans imperfectness.

Here are a couple of links that you'll find a lot and I do mean a lot of articles on questions concerning the bible as well as one that gives examples of history from the Bible. I'll be honest, I've not had the time to read them all, however they are from a source that I trust.

I would ask you to not be so rude when you post here.
# Posted by Alyfireman :: 2:51 AM :: |

---------------oOo---------------
Wednesday, October 12, 2005
Prayers for October 11, 2005

He who dwells in the secret place of the Most High
Shall abide under the shadow of the Almighty.
I will say of the Lord, "He is my refuge and my fortress;
My God, in Him I will trust."
(Psalm 91:1,2)


From The Voice of the Martyrs


CHINA (China Aid Association)
State security agents threatened Christian businessman, Tong Qimiao, while he was being hospitalized for a broken chest bone, caused by brutal torture. The agents showed Mr. Tong China Aid Association's news release on his case and forced him to write a statement that he was never beaten during interrogation. The officials of the Bureau of Industry and Commerce also showed up at the emergency room and threatened him that his license would be revoked unless he cooperated with the state security agents. Mr. Tong Qimiao was so seriously beaten by the state security agents on September 30th that his chest bone was broken. Reliable sources told CAA that Mr. Tong and his family would not give in and they would file a lawsuit against the agents. "We are shocked by what happened to Mr. Tong, and it is even more inhumane and barbarian that this happened in the hospital," said Bob Fu, President of China Aid Association. "This kind of case happens as the Chinese government is ambitiously developing the Western region. We urge the Chinese government to take exact steps to protect people's freedom of religion, which is enshrined in the Constitution of the People's Republic of China."

Pray God will work out His justice in this case. Pray the Lord will heal Mr. Tong quickly. Pray international publicity concerning Mr. Tong's treatment will bring an end to China's persecution of Christians.


INDIA (Compass Direct)
Religious tensions in Punjab state increased last week, as police beat several Christians in jail. They had taken them to jail to presumably protect them from Hindu extremists. At least 40 Christians were praying at a home in Maloud the night of September 25th when a mob, including members of the Hindu extremist group Bajrang Dal, stormed the house. The mob threatened the Christians and beat some of them. Believers called the police, and four of them-Gurdev Singh, Balkaran Singh, Jaswant Singh and Amar Singh, a pastor-were taken into custody, as the mob grew increasingly violent. At Maloud's police station, Assistant Sub-Inspector Hukum Chand Sharma, repeatedly struck the Christians, gravely injuring Gurdev Singh and Amar Singh. Later he also beat a 60-year-old pastor, Sukhdev Singh, who was later hospitalized with serious injuries.

Nine Christians in Chattisgarh's Durg district are on trial for disrupting the peace between two communities, by "attempting to convert" Hindu villagers with offers of money. On Monday, September 26th, the pastor and eight members of a church appeared before a judge, who offered to dismiss the case if the Christians would agree to stop their activities.,They declined to do, asserting that the allegations against them were false. Police had arrested the group on June 6th and charged them with disturbing the peace, after a mob of around 200 people attacked the Christians and accused them of offering money to convert Hindu villagers. Police did not file any charges against the attackers. Meanwhile, two other Christians in another district of Chattisgarh are awaiting charges against them for their alleged role in fraudulent "conversion."

Pray our compassionate Savior will physically and emotionally heal the injured believers. Pray they will display God's heart toward their enemies. Pray the police will recognize that their attempts to wipe out Christianity were in vain.


INDONESIA (Christian Freedom International)
Christian Freedom International, a fact-finding mission to Indonesia, reveals alarming and growing evidence of religious persecution against minority Christians. Christian Freedom International (CFI) president Jim Jacobson, conducted a fact-finding mission to Indonesia, the world's largest Islamic nation, in September 2005, visiting numerous forcibly closed churches in West Java. CFI urges the Indonesia government to allow religious freedom, to intervene and stop the forced shut-down of churches and to denounce the radical Islamic group known as AGAP. AGAP is an abbreviation for Aliansi Gerakan Ant Pemurtadan, which translated into English means Anti-Apostasy Alliance Movement. According to Jacobson, "AGAP has a mission to close churches and basically eradicate Christianity in Indonesia. They use fear, intimidation, threats, and obscure government regulations, in cooperation with local officials, to accomplish their goal." At least 35 churches in Bandung and neighboring regions have been closed by Islamic mobs during the past 12 months alone. A free copy of the Christian Freedom International fact-finding report entitled, "Churches Forced to Close in Indonesia" can be viewed or downloaded online by visiting www.christianfreedom.org.

Pray Christians in Indonesia will remain faithful to Jesus, knowing His grace is sufficient for them. Pray that as the persecution of Christians increases, our powerful God will grow His church. Pray many Muslims will tire of the violence and seek the God of peace and His Son, Jesus Christ.


NIGERIA (ASSIST News Service)
Rejoice Gwammikat Daniel Chirdap, the 16-year-old who disappeared during a visit to her father's house in Kagadama, Yelwa, has been returned to her family. Christian Solidarity Worldwide (CSW) reports that Rejoice disappeared on September 12, 2005. Two days later her family received a letter from the Bauchi State Shari'ah Commission informing them it had given custody of Rejoice to Imam Yakubu of Kagadama, Yelwa. There has been no explanation as to how Rejoice, a minor, came to be in the Commission's hands without parental consent. CSW states that following widespread publicity and high-level advocacy on Rejoice's disappearance, the Bauchi State Police Force finally took action on September 23rd. "They intervened decisively and the Bauchi State Shari'ah Commission handed Rejoice over to her family. Although somewhat traumatized by her experience, a medical examination revealed that Rejoice was otherwise unharmed," CSW said.

Give thanks to our merciful Father that Rejoice was returned to her family unharmed. Praise God that the international publicity and prayers of thousands of Christians caused the Bauchi State Shari'ah Commission to act on her behalf. Pray God will also grant His mercy to all those who persecute Christians in Nigeria, bringing them into His loving arms and eternal Kingdom.
# Posted by Alyfireman :: 6:54 PM :: |

---------------oOo---------------
Monday, October 10, 2005
More Cartoons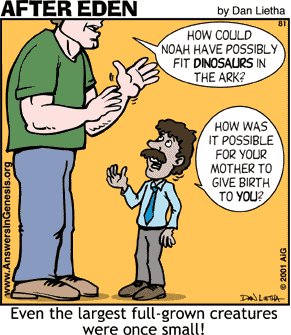 # Posted by Alyfireman :: 8:13 PM :: |

---------------oOo---------------
Saturday, October 08, 2005
The Danger of Taking the Bible with a Grain of Salt

I just don't understand this, the Catholic church as recently denounced the Bible, or at least parts of it:


THE hierarchy of the Roman Catholic Church has published a teaching document
instructing the faithful that some parts of the Bible are not actually true.


The Catholic bishops of England, Wales and Scotland are warning their five
million worshippers, as well as any others drawn to the study of scripture,
that they should not expect "total accuracy" from the Bible. "We should not
expect to find in Scripture full scientific accuracy or complete historical
precision," they say in The Gift of Scripture. The document is timely, coming as
it does amid the rise of the religious Right, in particular in the US.

Why even read and study the bible if you don't belive it's the true and inspired Word of God. This article goes one to state what you they believe to be true and untrue:


UNTRUE
Genesis ii, 21-22
So the Lord God caused a deep sleep to fall
upon the man, and while he slept he took one of his
ribs and closed up its place with flesh; and the
rib which the Lord God had taken from the man
he made into a woman and brought her to the man

Genesis iii, 16
God said to the woman [after she was beguiled by
the serpent]: "I will greatly multiply your pain
in childbearing; in pain you shall bring forth
children, yet your desire shall be for your
husband, and he shall rule over you."

Matthew xxvii, 25
The words of the crowd: "His blood be
on us and on our children."

Revelation xix,20
And the beast was captured, and with it the
false prophet who in its presence had worked the
signs by which he deceived those who had
received the mark of the beast and those who
worshipped its image. These two were thrown
alive into the lake of fire that burns with
brimstone."

TRUE
Exodus iii, 14
God reveals himself to Moses as: "I am who I
am."

Leviticus
xxvi,12
"I will be your God, and you shall be my
people."

Exodus
xx,1-17
The Ten Commandments

Matthew v,7
The Sermon on the Mount

Mark viii,29
Peter declares Jesus to be the Christ

Luke i
The Virgin Birth

John xx,28
Proof of bodily resurrection

Read the article for yourself


So basically they're picking and choosing what parts of the Bible can be believed and witch parts cannot. I notice that they have Exodus 20:1-17 included in the true section. I wonder if they realize that Ex 20:8 says this

20:8 Remember the Sabbath day to sanctify it. 20:9 For six days you may labor and do all your work, 20:10 but the seventh day is a Sabbath to the Lord your God; on it you shall not do any work, you, or your son, or your daughter, or your male servant, or your female servant, or your cattle, or your resident foreigner who is in your gates. 20:11 For in six days the Lord made the heavens and the earth and the sea and all that is in them, and he rested on the seventh day; therefore the Lord blessed the Sabbath day and sanctified it.

AiG has a good rebuttal on it's website:


An article in The Times of London by Ruth Gledhill about this study book is
accompanied on the newspaper's website by a discussion. One posting, by an
atheist, is particularly telling. Referring to the Gift of Scripture's repudiation of biblical literalism and creationism, the atheist says:

'Having been obliged at last to make these concessions, I wonder how much
longer it will take for the virgin birth, the divinity of Christ and the
resurrection also to be conceded as "symbolic".


Now if an atheist can see what will happen if this continues, than why can't Christians. I don't know to me it just one sign that the end is near!
# Posted by Alyfireman :: 12:39 AM :: |

---------------oOo---------------
Friday, October 07, 2005
VOM letter writing

A few days ago I talked about writing letters to Christian prisoners. I found this article today:

(AgapePress) - Zhang Yi-Nan, a leader in the Chinese house church movement
who was arrested in 2003 in connection with his Christian activities, has
been released after spending two years in a labor camp. Communist Chinese
authorities released Zhang last week from the Ping Ding Shan City Bailou Labor
Camp in Henan Province, China. The Christian prisoner had been taken into
custody in September of 2003 and charged with subverting the Chinese
government and socialist order. But, even after he had completed two years
of laojiao, or "re-education through labor," Zhang was not immediately allowed
to go home. According to a report from Voice of the Martyrs (VOM), a ministry to persecuted
Christians worldwide, Zhang was escorted from the labor camp by ten policement;
but instead of taking him home, he was first taken to the Lushan County Police
Station, where he was "instructed" about what he should not say or do following
his release. Reportedly, police told the ex-detainee that he was "very defiant"
for not admitting his "mistakes" -- i.e., choosing to follow Christ and
belonging to an unregistered house church rather than China's official state
church. Zhang was finally allowed to go home with his wife and son. Upon
arriving home, one of the first things he did was to watch a video documentary
called The Cross: Jesus in China. The humble Christian leader later remarked
that, compared with what other Chinese Christians have gone through, his own
suffering was nothing. "I am just so privileged to taste a little bit of the
Lord's cross," he said. Todd Nettleton, a spokesman with VOM, believes the
strong response of fellow Christians who participated in a letter writing
campaign on Zhang's behalf probably played a significant role in his release.
Nettleton says the labor camp detainee was featured on PrisonerAlert.com, a
website the ministry has set up, through which people can write to Christians in
prison around the world. "About 2,700 people went on the website, looked at
Brother Zhang's profile, and then composed a letter to him," the VOM
representative says. "The website also translates the letters into the language
of the prisoner, so his letters were in Chinese."

So you see it works so if you haven't or even if you have. Go to Prisoner Alert, and write a letter today.
# Posted by Alyfireman :: 9:18 PM :: |

---------------oOo---------------
Sunday, October 02, 2005
The power of God's Word to change people

Check out this article, ok this is just an awesome story. It goes to show you the power of God's Word.
# Posted by Alyfireman :: 9:17 PM :: |

---------------oOo---------------

Does meek equal weak?



Why is it that people think Christians are these weak, frail people that are hiding behind an outdated book?





I was watching a western staring Sam Huston, called The Quick and the Dead. Well about half way through this movie Sam Huston grabs this guy and says something along the lines of "When are you going to knock of the meek with inherit the earth junk." This got me thinking, what does that word meek mean?





So I did a quick study on the word meek, using E-Sword, and this is what I came up with.






Mat 5:5

Blessed

are

the meek: for they shall inherit the earth.





Strong's





G4239




πραΰ́ς




praus




prah-ooce'




Apparently a primary word;

mild

, that is, (by implication)

humble:

- meek. See also G4235.

Meek




MEEK

, a. [L. mucus; Eng. mucilage; Heb. to melt.]





Thayer





G4239




πραΰ́ς




praus




Thayer Definition:




1) mildness of disposition, gentleness of spirit, meekness




Part of Speech:

adjective




A Related Word by Thayer's/Strong's Number:

apparently a primary word




Citing in TDNT:

6:645, 929





Webster's





1. Mild of temper; soft; gentle; not easily provoked or irritated; yielding; given to forbearance under injuries.





Now the man Moses was very meek, above all men. Num 12.





2. Appropriately, humble, in an evangelical sense; submissive to the divine will; not proud, self-sufficient or refractory; not peevish and apt to complain of divine dispensations. Christ says, "Learn of me, for I am meek and lowly in heart, and ye shall find rest to your souls." Mat 11.





Blessed are the meek, for they shall inherit the earth. Mat 5.





This Webster's definition is from one of the first dictionary that Noah Webster published. So what does Webster say now:



Pronunciation:

'mEk

Function: adjectiveEtymology: Middle English, of Scandinavian origin; akin to Old Norse mjukr gentle; akin to Welsh mwyth soft1 : enduring injury with patience and without resentment : MILD 2 : deficient in spirit and courage : SUBMISSIVE 3 : not violent or strong : MODERATE



Boy, what a difference a few hundred years will make, in the meaning of a word.





# Posted by Alyfireman :: 7:00 AM :: |

---------------oOo---------------
Saturday, October 01, 2005
In the Beginning…There Were No Diapers

By Tim Bete


Surely if you're a parent you can relate to this:


Saint Paul wrote, "One who speaks in a tongue should pray for the power to interpret." Sometimes I feel like I'm speaking in tongues and my children aren't able to interpret. Perhaps I need to pray harder for my children to understand me. I'm sure they're praying for me. I'm sure they're praying for me to understand them. I recently found out the firefighters in our town need some prayers too.

In a nearby preschool, a local firefighter was teaching fire safety to three- and four-year-olds. One of his first questions was, "What do you do if your clothes are on fire?" Instantly, one of the kids shouted out, "Close your closet door!" Answers like that make it difficult to continue a presentation.

This book is at times humorous, at times laugh out loud funny, but at all times it was very enjoyable. What I enjoyed most about it, was reading it and remembering the times when my own children did similar things.

The only thing I want to know is how much did he have to pay the poor sap on the front cover to hold two loaded weapons of mass destruction at himself with the safeties off.

Now if you not sure if you're a parent, why don't you take Mr. Bete's quiz to see if you are?

To find more reviews check outMind and Media who has provided this book to me as a gift. for my review.


# Posted by Alyfireman :: 10:57 PM :: |

---------------oOo---------------