Tuesday, June 28, 2005
VOM Prayers for June 28, 2005
"For I know that this will turn out for my deliverance through your prayer and the supply of the Spirit of Jesus Christ, according to my earnest expectation and hope that in nothing I shall be ashamed, but with all boldness, as always, so now also Christ will be magnified in my body,
whether by life or by death. For to me, to live is Christ, and to die is gain"
(Philippians 1:19-21).
Thank you for praying for the persecuted church. God bless!
From
The Voice of the Martyrs
Pray for EGYPT
EGYPT (Compass Direct) On June 9th, Gasir Mohammed Mahmoud was discharged from his locked psychiatric ward in Cairo, five months after he was forcibly committed to a mental hospital for converting from Islam to Christianity. Mahmoud, 31, was tortured by security police and then beaten at times and given heavy doses of medication twice daily at the El-Khanka Hospital for Mental and Neurological Health. He was committed to the mental hospital in January after his adoptive Muslim parents became alarmed to learn that he had converted to Christianity two years earlier. Mahmoud's supervising physician told him he would never be allowed to leave the hospital unless he returned to Islam. But a round of international publicity released in May focused considerable attention on the case, apparently convincing hospital authorities to discharge him.
Give thanks and praise to God for Mahmoud's release! Pray the Lord will heal him completely from any aftereffects of the ordeal he suffered. Pray the hearts of Egyptian officials will soften toward Christ and His people.
Pray for INDIA
INDIA INDIA (Compass Direct)
Eleven Christian families in Maharashtra state, India have lodged an official complaint of sexual assault carried out by Hindu villagers. On May 15th, the families were summoned to a community court and asked to give up their faith. When they refused, the men were severely beaten and the women were sexually assaulted. When the Christians lodged an official complaint on May 18th, Hindu villagers lodged a counter complaint, accusing them of desecrating Hindu idols. Seven Hindu and 13 Christian villagers were arrested and later released on bail; both groups are now seeking legal advice. Meanwhile, Hindu villagers met on June 12th, with nine neighboring villages and asked them to socially ostracize the Christian families. The families have been banned from using public wells and shopping at local food stores.
Pray God will bring peace of mind to those who were attacked as He leads them to forgive their enemies. Pray they will bring Christ's light to the spiritual darkness around them. Pray God will use this situation to carry out His plans to bring more souls into His Kingdom.
(Compass Direct)
On June 4th, a government official in Orissa, India ordered the demolition of a Christian settlement "within 48 hours" to make way for a boating park to attract tourists to the area. However due to a public outcry, an interim order was passed on June 6th, delaying the demolition until the monsoon season had passed. Christians say the Rashtriya Swayamsevak Sangh (RSS), a radical Hindu group, held a paramilitary training camp in the town from June 2nd to 4th, attended by some of the state ministers; this may be connected with the demolition order. "The administration is trying to harass the minority Christian community," the Rt. Rev. Aman Khosola alleged.
Pray the Holy Spirit will move in loving power to overcome the spirit of hatred that has dominated Orissa state. Pray the Christians will show love and mercy toward those who oppose them, heaping coals of fire on their heads. Pray God will soften the hearts of the Hindus to allow their Christian neighbors access to wells and food stores.
Pray for INDONESIA
INDONESIA (Compass Direct)
A Muslim council has accused three Indonesian women of attempting to convert Muslim children under the guise of a Christian education program. Dr. Rebekka Zakaria, Eti Pangesti and Ratna Bangun were arrested on May 13th, and eventually taken to the Indramayu State Prison in West Java, where they await trial. If convicted of breaching the Child Protection Law, they could each face a prison sentence of up to five years and a fine of up to 100,000,000 rupees ($103,600). A lawyer acting for the local Majelis Ulama Indonesia council asked that bail be refused for the women. Meanwhile, lawyers are preparing for a trial that could make headlines in a nation still clearly divided along religious lines.
Pray Jesus will comfort these faithful servants who followed His example by bringing little children to Him. Pray God will put His compassion in the hearts of West Java authorities to let these women go free. Pray the dark spirit of Islam in Indonesia will be overcome by the light of Christ.
Pray for IRAN
IRAN (ASSIST News Service)
Iran's Islamic Revolution of 1979 has not produced the Islamic paradise it envisioned. Since the revolution, unemployment has soared, inflation is high, and poverty is widespread. The religious repression and economic recession have been paralleled by social deterioration: frustration, despair, homelessness, prostitution, drug addiction, suicide and AIDS are widespread. Iran is ruled by a supreme leader, the Ayatollah Khamenei, and 12 Ayatollahs as a Council of Guardians who may reject any legislation they deem "un-Islamic." On Friday, June 17th, Iranians voted in Iran's 7th Presidential elections, from which all female candidates were excluded. Anger and hopelessness led many reformists and women to boycott the polls, while Islamic and anti-American zeal, plus the mobilizing efforts of the Basij Islamic militia brought the conservatives out in force. The moderate candidate was soundly defeated, and the runner-up is even more committed to fundamental Islam than Hashemi Rafsanjani, the incumbent appointed by Ayatollah Khamenei, who is expected to win in a run-off election.
Pray God will protect His already suffering church in Iran, and bless His children who are His ambassadors. Pray the Holy Spirit will reveal Christ the Savior to Iranians through supernatural means and the witness of His people.
Pray for SRI LANKA
SRI LANKA (CharismaNOW)
With an anti-conversion law being considered by the country's Parliament, Christians are facing renewed violence and intimidation. According to Christian Solidarity Worldwide (CSW), the Assemblies of God (AG) Church in Ambalangoda, located in the Galle district, south of Colombo, was attacked with rocks, stones and bottles filled with sand on June 5th. The next morning, a crowd of about 100 people shouting threats surrounded the church. Armed with iron rods, shovels, swords and other weapons, the mob brutally assaulted the pastor and two church members. One person was seriously injured, and all three are now in a hospital being treated for their injuries. There are fears that the mob may return to attack the church again. Elsewhere, on May 29th, a crowd of about 100 people and a local Buddhist monk disrupted a prayer meeting at Kithu Sevana Church, located in the Kurunegala district, northeast of Colombo. Christian villagers were threatened and warned to stop their meetings. Due to concern over another attack, the next prayer meeting, scheduled for June 5th, was canceled.
Pray the Lord will heal those who were injured in this attack. Ask God to use their witness of faith and love to bring their enemies to Christ. Pray God will give Sri Lankan Christians a spirit of boldness and zeal to proclaim the Good News, knowing their suffering is not in vain. Pray all Christians will lift up heartfelt cries for their brothers and sisters who suffer for Christ, whose name they bear.
# Posted by Alyfireman :: 9:13 AM :: |

---------------oOo---------------
Sunday, June 26, 2005
Abstinence Sex Ed

Thanks to the guys over at Stop the ACLU. I've stumbled over the ACLU's latest attempt to undermine America's youth and send them down an endless spiral.

The, sadly confused, ACLU has started up a site, ACLU's Take Issue Take Charge promoting Sex Ed in schools. Or more specially "Safe Sex" Ed instead of abstinence Sex Ed.

Ok, I agree with the ACLU on this one our tax dollars should not go toward sex Ed in public school. It is the parents and, only the parents, role to teach their children about sex. If parents just can't bring themselves to instill their values in there own children, then they do have the right to pay someone to teach their children.

OK, on their site they quote a CDC study dated March of '02:


The Centers for Disease Control & Prevention note that "research has clearly shown that the most effective programs [to prevent the spread of HIV/AIDS] are comprehensive ones that include a focus on delaying sexual behavior and provide information on how sexually active young people can protect themselves."

Centers for Disease Control & Prevention, Fact Sheet: Young People at Risk: HIV/AIDS Among America's Youth, National Center for HIV, STD and TB Prevention, March 2002.


After doing some research I found this


A November 15, 2004, Centers for Disease Control and Prevention (CDC) report states, "the birthrate among adolescents and young teen girls in the United States fell sharply in the 1990s, hitting a 58-year-low in 2002." The birthrate for 10- to 14-year-old girls in 2002 rate is half the 1990 rate. This is incredible news! But what is the cause for the continual and very significant decline in birthrates to young teens? How can we make sure this rate keeps declining?

Could the birthrate decrease in this age group be due to increased abortions? We know this age group has higher abortion numbers than any other age demographic. But evaluating the statistics reveals that abortion cannot be the reason. According to the CDC's Morbidity and Mortality Weekly Report (MMWR),1 the abortion rate for girls under age 15 declined significantly from the late 1980s to the year 2000. So, clearly, abortion is not the reason for the waning birth rates for young teens.


*Note at the bottom of the above article is the footnotes with the links to their research.


I also found this


Abstinence education works. So says the long-awaited Mathematica report "First – Year Impacts of Four Title V, Section 510 Abstinence Education Programs." On June 14, 2005, the Department of Health and Human Services released the first-year findings of this longitudinal study of abstinence education programs, confirming the benefits of abstinence education in public schools.


And what did this Mathematica Report find, you may ask?


• "The programs increased perceptions of potential adverse consequences of teen and nonmarital sex."
• "Some evidence that the programs increased expectations to abstain from sex and reduced dating."
• "The programs led youth to report views more supportive of abstinence and less supportive of teen sex than would have been the case had they not had access to the abstinence education programs."


The entire Mathematica Report can be found here.

So tell me, how can the ACLU report only part of the truth, and what exactly do they have against abstinence sex Ed. Well that is for you to decide.
# Posted by Alyfireman :: 3:56 AM :: |

---------------oOo---------------
Friday, June 24, 2005
An Email Forward
Not sure how much of this is ture
This is a poem being sent from a Marine to his Dad.
For those who take the time to read it, you'll see a letter from
him to his Dad at the bottom. It makes you truly thankful
for not only the Marines, but ALL of our troops.


THE MARINE




We all came together,
Both young and old
To fight for our freedom,
To stand and be bold.



In the midst of all evil,
We stand our ground,
And we protect our country
From all terror around.



Peace and not war,
Is what some people say.
But I'll give my life,
So you can live the American way.



I give you the right
To talk of your peace.
To stand in your groups,
and protest in our streets.



But still I fight on,
I don't bitch, I don't whine.
I'm just one of the people
Who is doing your time.



I'm harder than nails,
Stronger than any machine.
I'm the immortal soldier,
I'm a U.S. MARINE!



So stand in my shoes,
And leave from your home.
Fight for the people who hate you,
With the protests they've shown.



Fight for the stranger,
Fight for the young.
So they all may have,
The greatest freedom you've won.



Fight for the sick,
Fight for the poor
Fight for the cripple,
Who lives next door.



But when your time comes,
Do what I've done.
For if you stand up for freedom,
You'll stand when the fight's done.



By: Corporal Aaron M. Gilbert, US Marine Corps
USS SAIPAN, PERSIAN GULF



March 23, 2003

Hey Dad,

Do me a favor and label this "The Marine" and send it to
everybody on your email list. Even leave this letter in it. I
want this rolling all over the US; I want every home reading
it. Every eye seeing it. And every heart to feel it. So can you
please send this for me? I would but my email time isn't that
long and I don't have much time anyway. You know what Dad?
I wondered what it would be like to truly understand what JFK
said in His inaugural speech.

"When the time comes to lay down my life for my country,
I do not cower from this responsibility. I welcome it."

Well, now I know. And I do. Dad, I welcome the opportunity
to do what I do. Even though I have left behind a beautiful
wife, and I will miss the birth of our first born child, I would
do it 70 times over to fight for the place that God has made
for my home. I love you all and I miss you very much. I wish
I could be there when Sandi has our baby, but tell her that I
love her, and Lord willing, I will be coming home soon. Give
Mom a great big hug from me and give one to yourself too.
Aaron


FREEDOM isn't FREE
... someone pays for you and me.


"We can't change the winds but we can adjust our sails."


Again this was forwarded to me and enjoyed so much I wanted to share it. You can find more info on it here. May God bless the ones that are fighting to keep us free.
# Posted by Alyfireman :: 9:13 PM :: |

---------------oOo---------------

The Consequence of Sin part 2

All sin no matter how "big" or "small" has consequences attached to it. Yesterday I showed you a few of the examples that are in the Bible. I learned this the hard way this past week. Thankfully the consequence of my sin was small, but it could have been much worst.

My family and I went on a picnic. The location we picked was going to involve a 60 mile round trip journey. On the way to Blueberry Lake, I noticed I was a little low on fuel. My wife also noticed this and she was quick to let me know that I hadn't filled up my tank before we left.

Ok, I should probably define low on fuel. You know that last line on your fuel gauge fight before empty; it's the "hey you're fixin to run out of gas" mark. That's were the needle on my gauge was sitting. A normal person getting ready to go on a trip makes sure they have enough fuel to get there and back, but no not me. As soon as my wife said something a light went off, fellows you know the one, it's you're a woman and you don't have a clue what you talking about. This is my truck and I know it better than anyone. And that was my decision I looked at her and said we have more than enough to make it there and back. So we're driving and all the while I'm mentally convincing myself that we did in fact have all the fuel we needed.

Well do you know what happens as soon as I turn on the dirt road leading to the lake, the "hey idiot this is your last warning fill me up or you're walking", low fuel light comes on. So now I have two voices holding a conversation in my head. One was saying to the other you're screwed, there ain't no way your making it back without having to walk, to which the other replied don't listen to him you'll be fine. So now instead of having a nice peaceful lunch with my family I was stressing and wondering what I was going to do if I did in fact run out of gas on the way home.

To help make this long story ,short, I got very lucky and we made it back to a gas station with no problem. This time the only consequence to my sin was a little unneeded anxiety. Some of you my be wondering why am I making a mountain out of a mole hill. All I'm trying to do is illustrate my point. If I had swallowed my pride, I would have had a much nicer trip.
# Posted by Alyfireman :: 1:00 AM :: |

---------------oOo---------------
Thursday, June 23, 2005
The Consequence of Sin

Here are just of few example of how sin has consequence. From the first sin which has affected all mankind, to the ones that are committed daily, there is consequence to sin. I'll let you read over these selection, than tomorrow I'll post a story about what could have happened to as a result of own sin of pride a couple of weeks ago now.


Genesis 3
3:1 Now the serpent was more shrewd than any of the wild animals that the Lord God had made. He said to the woman, "Is it really true that God said, 'You must not eat from any tree of the orchard'?" 3:2 The woman said to the serpent, "We may eat of the fruit from the trees of the orchard; 3:3 but concerning the fruit of the tree that is in the middle of the orchard God said, 'You must not eat from it, and you must not touch it, or else you will die.'" 3:4 The serpent said to the woman, "Surely you will not die, 3:5 for God knows that when you eat from it your eyes will open and you will be like divine beings who know good and evil."
3:6 When the woman saw that the tree produced fruit that was good for food, was attractive to the eye, and was desirable for making one wise, she took some of its fruit and ate it. She also gave some of it to her husband who was with her, and he ate it. 3:7 Then the eyes of both of them opened, and they knew they were naked; so they sewed fig leaves together and made coverings for themselves.
The Judgment Oracles of God at the Fall
3:8 Then the man and his wife heard the sound of the Lord God moving about in the orchard at the breezy time of the day, and they hid from the Lord God among the trees of the orchard. 3:9 But the Lord God called to the man and said to him, "Where are you?" 3:10 The man replied, "I heard you moving about in the orchard, and I was afraid because I was naked, so I hid." 3:11 And the Lord God said, "Who told you that you were naked? Did you eat from the tree that I commanded you not to eat from?" 3:12 The man said, "The woman whom you gave me, she gave me some fruit from the tree and I ate it." 3:13 So the Lord God said to the woman, "What is this you have done?" And the woman replied, "The serpent tricked me, and I ate."
3:14 The Lord God said to the serpent,
"Because you have done this,
Cursed are you above all the wild beasts
and all the living creatures of the field!
On your belly you will crawl
and dust you will eat all the days of your life.
3:15 And I will put hostility between you and the woman
and between your offspring and her offspring;
her offspring will attack your head,
and you will attack her offspring's heel."
3:16 To the woman he said,
"I will greatly increase your labor pains;
with pain you will give birth to children.
You will want to control your husband,
but he will dominate you."
3:17 But to Adam he said,
"Because you obeyed your wife
and ate from the tree about which I commanded you,
'You must not eat from it,'
cursed is the ground thanks to you;
in painful toil you will eat of it all the days of your life.
3:18 It will produce thorns and thistles for you,
but you will eat the grain of the field.
3:19 By the sweat of your brow you will eat food
until you return to the ground,
for out of it you were taken;
for you are dust, and to dust you will return."
3:20 The man named his wife Eve, because she was the mother of all the living. 3:21 The Lord God made garments from skin for Adam and his wife, and clothed them. 3:22 And the Lord God said, "Now that the man has become like one of us, knowing good and evil, he must not be allowed to stretch out his hand and take also from the tree of life and eat, and live forever." 3:23 So the Lord God expelled him from the orchard in Eden to cultivate the ground from which he had been taken. 3:24 When he drove the man out, he placed on the eastern side of the orchard in Eden sentries who used the flame of a whirling sword to guard the way to the tree of life.


Genesis 4:3-16
4:3 At the designated time Cain brought some of the fruit of the ground for an offering to the Lord. 4:4 But Abel brought some of the firstborn of his flock—even the fattest of them. And the Lord was pleased with Abel and his offering, 4:5 but with Cain and his offering he was not pleased. So Cain became very angry, and his expression was downcast.
4:6 Then the Lord said to Cain, "Why are you angry, and why is your expression downcast? 4:7 Is it not true that if you do what is right, you will be fine? But if you do not do what is right, sin is crouching at the door. It desires to dominate you, but you must suppress it."
4:8 Cain said to his brother Abel, "Let's go out to the field." While they were in the field, Cain attacked his brother Abel and killed him.
4:9 Then the Lord said to Cain, "Where is your brother Abel?" And he replied, "I don't know! Am I my brother's guardian?" 4:10 But the Lord said, "What have you done? The voice of your brother's blood is crying out to me from the ground! 4:11 So now, you are banished from the ground, which has opened its mouth to receive your brother's blood from your hand. 4:12 When you try to cultivate the ground it will no longer yield its best for you. You will be a homeless wanderer on the earth." 4:13 Then Cain said to the Lord, "My punishment is too great to endure! 4:14 Look! You are driving me off the land today, and I must hide from your presence. I will be a homeless wanderer on the earth; whoever finds me will kill me." 4:15 But the Lord said to him, "All right then, if anyone kills Cain, Cain will be avenged seven times as much." Then the Lord put a special mark on Cain so that no one who found him would strike him down. 4:16 So Cain went out from the presence of the Lord and lived in the land of Nod, east of Eden


Acts 5:1-11
Now a man named Ananias, together with Sapphira his wife, sold a piece of property. 5:2 He kept back for himself part of the proceeds with his wife's knowledge; he brought only part of it and placed it at the apostles' feet. 5:3 But Peter said, "Ananias, why has Satan filled your heart to lie to the Holy Spirit and keep back for yourself part of the proceeds from the sale of the land? 5:4 Before it was sold, did it not belong to you? And when it was sold, was the money not at your disposal? How have you thought up this deed in your heart? You have not lied to people but to God!"
5:5 When Ananias heard these words he collapsed and died, and great fear gripped all who heard about it. 5:6 So the young men came, wrapped him up, carried him out, and buried him. 5:7 After an interval of about three hours, his wife came in, but she did not know what had happened. 5:8 Peter said to her, "Tell me, were the two of you paid this amount for the land?" Sapphira said, "Yes, that much." 5:9 Peter then told her, "Why have you agreed together to test the Spirit of the Lord? Look! The feet of those who have buried your husband are at the door, and they will carry you out!" 5:10 At once she collapsed at his feet and died. So when the young men came in, they found her dead, and they carried her out and buried her beside her husband. 5:11 Great fear gripped the whole church, and all who heard about these things.
# Posted by Alyfireman :: 5:19 AM :: |

---------------oOo---------------
Wednesday, June 22, 2005
Trading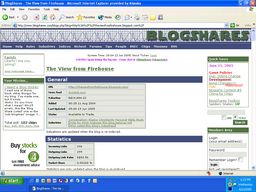 click on link to see details.

Seems that I've been added to blog shares. I guess that means you all need to go out there and invest in the firehouse while you can.
# Posted by Alyfireman :: 6:30 PM :: |

---------------oOo---------------

Prayers for June 21, 2005

From The Voice of the Martyrs
The Voice of the Martyrs Visit: Persecution.com

Pray for CHINA
JORDAN (Compass Direct)
A Jordanian court rejected a last-ditch appeal this week from the Muslim guardian fighting for custody of Christian widow Siham Qandah's two minor children. The June 13th decision reconfirmed an earlier verdict from Amman's Al-Abdali Sharia Court two months ago, which revoked the legal guardianship of Abdullah al-Muhtadi, the maternal uncle of Qandah's daughter Rawan and son Fadi. According to Qandah's lawyer, this final verdict from the appellate court cannot be appealed. It effectively cancels all other pending cases regarding permanent custody of the children. Al-Muhtadi has been ordered by the court to repay misspent funds he had withdrawn from his wards' inheritance accounts without judicial approval. Qandah may now select a new guardian for court approval to oversee her children's legal affairs until they reach maturity at age 18.

Praise God that this was His marvelous doing (Psalm 17:7)! Pray the Lord will guide Qandah in finding the guardian that He has chosen to care for her children. Pray God will protect Qandah and the children from any retaliation on the part of Muslim extremists.

Pray for INDIA
INDIA (Gospel for Asia)
On May 29th, 40 bullets were fired at the location of the partially constructed Believers Church in Manipur. None of the missionaries staying on the site were injured, and construction is continuing. Angry mobs had dismantled the construction four times in the previous six months, and one time they burned the missionaries' temporary living quarters, reducing their belongings to ashes. This latest attack had been forewarned, and the pastor had called for police protection, however, none came. When completed, this church building will be a haven where people who have been set free from spiritual bondage can come and joyfully sing praises to God.

Thank God for His protection of the missionaries who were at the site at the time the bullets were fired. Pray these incidents of opposition will only serve to increase the believers' zeal. Pray those responsible for the attacks will be curious about these persistent Christians and want to know their God.

Pray for INDONESIA
SRI LANKA (Religious News Service)
On Sunday, May 29th, 10 Christians had gathered to pray in a church in Ambanpola, when a crowd of approximately 100 (with a Buddhist monk) disrupted their prayer meeting. Because the Christians were threatened and feared another attack, the next prayer meeting was cancelled. In Batticoloa District, the National Christian Evangelical Alliance of Sri Lanka, in partnership with VOM-Canada, has been constructing a leadership training center. In February, the building where construction workers stayed was burned down, and on the night of June 2nd, the home of the family who donated the land for the training center was set on fire. In Galle District, an Assembly of God congregation, whose church building was destroyed in the tsunami, was able to purchase a new building. The next night the windows of the building were smashed with rocks and bottles, and the following morning a mob of around 100 surrounded the building, hurling threats at the Christians. Three parishioners were brutally beaten, one of whom is reported to be in serious condition, and the pastor's van was damaged, and his wallet, identification and cellular phone were stolen.

Pray God will quench the spirit of fear that caused believers to cancel a prayer meeting. Pray the Lord who calmed the waves will calm the hearts and minds of Buddhists in Sri Lanka. Pray the Christians will walk in wisdom, redeeming the time.

Pray for NIGERIA
NIGERIA (Compass Direct)
Leaders of the Christian Association of Nigeria submitted a memorandum to the nation's National Political Reform Conference on June 9th, cataloguing cases of persecution and discrimination against Christians. The leaders claim that while the Nigerian constitution professes a secular status for the nation, state governments in Northern Nigeria are Islamic institutions whose main task is to promote and propagate Islam using public funds. Twelve northern states have implemented Islamic Law (Shariah). The memorandum alleges discriminatory religious policies, including confiscating mission schools, hiring Islamic religious teachers, and denying land for church buildings. The reform conference is expected to draft a revised constitution that will then be presented to President Olusegun Obasanjo.

Pray our omnipotent God will move in great power to stop the implementation of Islamic Law in Nigeria. Pray the Lord will give not know Him. Pray God will give President Obasanjo wisdom and courage to use his presidential authority for God's eternal glory.
# Posted by Alyfireman :: 7:02 AM :: |

---------------oOo---------------
Sunday, June 19, 2005
E sword

I just downloaded this today, so I've not had a lot of time to play with it. But I can tell it loaded with all kinds of good stuff.



# Posted by Alyfireman :: 6:58 PM :: |

---------------oOo---------------

Happy Dad's Day

I was going to write a big long post about fatherhood, but I ran short on time. So instead here is some info on not only fathering but partnering as a whole.
We'll start first some of with what the bible has to say:


Deuteronomy6:5-7 You must love the Lord your God with your whole mind,8 your whole being, and all your strength. 6 These words I am commanding you today must be kept in mind, 7 and you must teach them to your children and speak of them as you sit in your house, as you walk along the way, as you lie down, and as you get up.

Proverbs 22:6 Train a child in the way that he should go, and when he is old he will not turn from it.

Ephesians 6:4 Fathers, do not provoke your children to anger, but raise them up in the discipline and instruction of the Lord.

Colossians 3:21 Fathers, do not provoke your children, so they will not become disheartened


Here are some very good articles from focus on the family

Here are some tough questions that all parents should have an answer to:


• What do I want my child to understand about God?
• What do I want my child to believe about himself or herself?
• What personal qualities do I want my child to value most highly?
• How does my child know I believe in and love him or her?
• Does my child get that message?
• Do I love my child by giving him or her my time?
• Do I teach my child by example what it means to love Christ in daily life?
• How do I want my child to view work? How am I teaching that and is he or she getting it?
• What kinds of books do I want to expose my child to (from the earliest ages)?
• What do I want my child to know about the purpose in life?
• Does my child know what does or does not disappoint me about his or her performance or behavior? (And parent, you must ask if these are fair and worthy expectations.)
• Does my child know what's most important to me? Source



And if you're not a Father and want to be you can find a job deserection here.
# Posted by Alyfireman :: 3:20 AM :: |

---------------oOo---------------
Saturday, June 18, 2005
More cartoons



The verse under the second cartoon is: 2 TIM 3:16

Every scripture is inspired by God and useful for teaching, for reproof, for correction, and for training in righteousness
# Posted by Alyfireman :: 8:50 PM :: |

---------------oOo---------------

New Stuff

I've had some new banner and buttons. How does they look? Does it take to long for the page to load? Yor input is much need. And don't forget to pick a CD for me to review.
# Posted by Alyfireman :: 7:00 AM :: |

---------------oOo---------------

Archaeology and the Old Testament

I'm reading and interesting article by Kyle Butt. Here an sample:


Because of the intrinsic value of archaeology, many have turned to it in order to try to answer certain questions about the past. One of the questions most often asked is, "Did the things recorded in the Bible really happen?" Truth be told, archaeology cannot always answer that question. Nothing material remains from Elijah's ascension into heaven, and no physical artifacts exist to show that Christ actually walked on water. Therefore, if we ask archaeology to "prove" that the entire Bible is true or false, we are faced with the fact that archaeology can neither prove nor disprove the Bible's validity. However, even though it cannot conclusively prove the Bible's veracity in every instance, archaeology can provide important pieces of the past that consistently verify the Bible's historical and factual accuracy. This month's Reason and Revelation article is designed to bring to light a small fraction of the significant archaeological finds that have been instrumental in corroborating the biblical text of the Old Testament.


Mr. Butt uses Archaeology edvidence to prove the account of Hezekiah and Sennacherib, found in 2 Chronicles.

Looking around Appologetics Press's web site I found a wealth of information. For anyone interested in appologetic they offer a home study course that is free. There is alot of info over there so stop wasting your time here and go waste some time over there.

I'm sorry if this post dosent make since but it 4:41 in the morning and I'm just killing some time before I get off work.
# Posted by Alyfireman :: 4:27 AM :: |

---------------oOo---------------

Refocusing

Some were along the line I've lost my direction. I wanted my posts here to be about my faith in Christ, how it has saved me and given me that much sought after freedom that only comes from having Him as Lord and Savior.

So you may be seeing some changes, hopefully for the better. Heres what you have to look forward too in the near future. The Consequence of Sin, What Being a Father Means, and The Search for True Freedom.

Now to take care of some other business. There are a couple of Blogs out there that you need to know about one is VOM's Persecution Blog. This Blog will keep you informed about the persecuted church. Also there is Crosses aCross America, were there goal is to encourage the expression of our faith.

I also got my first book from Mind and Media called The Thinking Toolbox. I'll be reviewing that here soon as well

Ok now I need some help from you my reader. There are three CD's I want to review, but I can't make up my mind on which one to do first. The choices are as follows Eric Bibb's "Spirit and the Blues," Living Sacrifice's "In Memoriam" and Demon Hunter's "Summer of Darkness". So let me know what you think.
# Posted by Alyfireman :: 3:10 AM :: |

---------------oOo---------------
Friday, June 17, 2005
HOW TO MAKE THE BIBLE SAY ANYTHING
An American President once said he would rather live in Russia than in America. What President would make such a remark? It was said by the Great Emancipator, Abraham Lincoln.

But he's being quoted out of context. He actually said, "I shall prefer emigrating to some country where they make no pretense of loving liberty--to Russia, for instance." Lincoln wrote these words while expressing regret about a dangerous trend he saw in America. He feared that many wanted to change "all men are created equal" to "all men are created equal, except non-whites." If that were to happen, Lincoln suggested, he would be more comfortable in a land where the government didn't pretend to stand for liberty. The context makes all the difference, for it tells us exactly what Abe meant to say.

But did you know that though Lincoln hated slavery, the Bible condones it? The Bible tells slaves to obey their masters (Eph. 6:5). It even appears to encourage us to view Africans differently than we view other people when it says, "Can the Ethiopian change his skin, or the leopard its spots?" (Jer. 13:23). Why would the Ethiopian want to change his skin unless it were a less than desirable condition, and why would the author link Ethiopians to leopards unless he wanted his readers to think of black people in less than human terms?

Again, these words have been twisted out of their original setting and intent. Quoted in context, Jeremiah was not putting dark skin in an unfavorable light, any more than he was being critical of the beauty and distinctive design of a leopard's coat. Jeremiah's message is that if the leopard could change his own spots, and if an Ethiopian could change the color of his skin, then "may you also do good who are accustomed to do evil" (Jer. 13:23). The immediate context shows that Jeremiah was saying we cannot change our own hearts any more than we can change the color of our skin. Any changes we make are merely cosmetic. The context shows exactly what Jeremiah meant to say.

But did Paul encourage slaves to obey their masters? Yes, and his comments must once again be understood in light of the times and spirit in which the apostle wrote. Slavery in Roman days was often the result of war or unpaid debts. Paul taught Christians to be free if they could (1 Cor. 7:21). If that was not possible, he encouraged them to show by their behavior that their well-being was not in the hands of human masters but in the hands of God, even in bad circumstances (1 Cor. 7:20-24). When two Christians found themselves in a master-slave relationship, Paul appealed to them to treat each other as equals and as brothers who were both accountable to God for the way they treated each other (Eph. 6:5-9; Phile. 15-16).

Context. If the immediate and wider contexts are not considered, a person can make the Bible say anything he wants it to say.


The above is from a booklet called How Can I Understand the Bible with is published by RBC Ministries
# Posted by Alyfireman :: 4:29 AM :: |

---------------oOo---------------
Tuesday, June 14, 2005
VOM Prayers for June 14, 2005

"If the heart is cleansed by the love of Jesus Christ, and if the heart loves Him, one can resist all tortures. What would a loving bride not do for a
loving bridegroom? ...God will judge us not according to how much we endured, but how much we could love. The Christians who suffered for
their faith in prisons could love. I am a witness that they could love God
and men." -Richard Wurmbrand, Tortured for Christ

This statement and many others will encourage and challenge you in your walk with Jesus Christ. In his book Tortured for Christ, Pastor Richard Wurmbrand challenges the free world to stand up and be a voice for the persecuted. Pastor Wurmbrand suffered 14 years of mental and physical torture for his fervent faith in Jesus Christ and for his bold witness. However, he left prison not a defeated man, but a man emboldened with passion and purpose-loving God, loving his enemies and serving today's persecuted church.

Send a copy of this best-selling classic to your friends and family by simply clicking here.

VOM Web Team


From The Voice of the Martyrs

Pray for CHINA
CHINA (VOM/China Aid Association)
On May 22nd, during Sunday worship time, police and Public Security Bureau (PSB) officers simultaneously raided approximately 60 house churches in Changchun, the capital city of Jilin province in northeastern China. In the days following, another 40 house-church groups were raided in other suburban cities around Changchun. More than 600 house-church believers and leaders were taken into custody. Most were released after 24 to 48 hours of interrogation, but approximately 100 leaders are still being held in different detention centers. The amount of man-power, coordination and planning involved in so many simultaneous raids shows this effort came from high levels of the Chinese government. One church pastor, Zhao Dianru, 58, was released Monday, June 6th, after 15 days of "administrative detention." (Click here)

Pray the Lord will protect and encourage these prisoners, giving them opportunities to share Christ with their persecutors. Pray the Lord will give strength, courage and hope to the families of those imprisoned. Pray God will confound the plans of the enemy regarding any further coordinated efforts to arrest house-church Christians.

Pray for INDIA
INDIA (Compass Direct)
Police in the southern state of Andhra Pradesh found the body of Pastor Isaac Raju on June 2nd. Raju went missing on May 24th. Just days earlier, on May 21st, the body of Pastor K. Daniel was found with marks suggestive of an acid attack. Both Raju and Daniel pastored churches on the outskirts of the state capital, Hyderabad. A letter sent to a local newspaper claimed the murders were the work of an organization called the "Anti-Christian Forum." After the letter was received, police questioned 150 members of Hindu nationalist organizations but at press time had no suspects. A reward has now been offered for information leading to the arrest of those responsible for the murders.

Pray Christians in Andrha Pradesh will give physical, emotional and spiritual help to the families of Pastors Raju and Daniel. Pray God will use these tragedies for His purposes, drawing many into a relationship with Jesus. Pray Christians in India will be bold in their witness.

(Compass Direct)
Around 200 Hindu extremists attacked a church in Moti Chowk village, Chattisgarh, India, on June 6th, while services were underway. Police then arrested nine church members and charged them with "disturbing the peace" under Section 151 of the Indian Penal Code. The nine Christians were kept in prison for two days before being released on bail. Meanwhile, the Hindu extremists called for a social boycott against the Christian community in the village, preventing them from using the community well or buying food supplies in local markets. Three days earlier, 13 Christians in Hathod village, Durg district, Chattisgarh, were summoned to a village meeting and asked to renounce their faith. Seven Christians who refused were locked up in the district jail. Police made it difficult for the Christians to be released on bail, saying that the bail amount must be raised within the village. However, fellow villagers who sympathized with the Christians were afraid to post bail because of the social influence of the village headman and Hindu extremists.

Pray God will give these suffering Christians a comforting sense of His presence and His peace. Pray their calm and joy will attract many Hindus to the one God of glory.

Pray for INDONESIA
INDONESIA (Compass Direct)
Since the May 28th bombing in Tentena, both Muslim and Christian leaders have expressed concern about corruption and violence in Indonesia. Some Muslim leaders believe the best solution is the nationwide implementation of Shariah (Islamic) Law. Congresses held in Jakarta in 2004, and Sulawesi in March 2005, recommended that Shariah principles be introduced through a revision of Indonesia's criminal law. Meanwhile, provincial councils are including more Shariah principles in local bylaws. In some provinces, governors have restricted freedom of worship for Christians.

Pray God will stop the implementation Shariah Law. Pray Christians in Indonesia will maintain their faith and witness despite opposition. Pray Christians worldwide will join in prayer, taking on the "fellowship of sufferings" of our brethren wherever they may be (Philippians 3:10).

Pray for NIGERIA
NIGERIA (Compass Direct)
Andrew Akume, a Christian lecturer at Ahmadu Bello University (ABU) in Zaria city, Kaduna state, Northern Nigeria, has disappeared since the issuance of a death sentence against him. A militant Muslim group at ABU passed the sentence on him claiming he blasphemed Mohammed, the prophet of Islam. Akume asked a Muslim female student not to wear the hijab (head-to-toe covering) because it didn't conform to the Council for Legal Education's dress code for law students. Meanwhile in Kano state, Christians are being held to Islamic law in the way they dress. On May 16th, Governor Malam Ibrahim Shekarau ordered all Christians in the state to dress in accordance with Islamic tenets. The order was sent to Christian churches and institutions in the state and implemented immediately in schools. The Rt. Rev. Zakka Nyam, the Anglican Bishop of Kano, has accused the state government of persecuting Christians

Pray God will protect and comfort Andrew Akume. Pray Christians in Nigeria will walk in the way of the Lord. Pray the Lord will avert the implementation of the Islamic dress code in Kano.

(Compass Direct)
Three students expelled for sharing the gospel in November last year say their fundamental rights as Christians were violated by the authorities of the Abubakar Tafawa Balewa University in Bauchi, Northern Nigeria. The three filed a case against the university, claiming the expulsion was a gross violation of their fundamental rights as Christians. According to the student's lawyer, Emmanuel Danboyi, the university's disciplinary committee that investigated the case was biased because it had 10 Muslims and only one Christian on the committee. Danboyi asked the court to declare the recommendation of the disciplinary committee "null, void…." The Christian students are also asking the court to set aside their expulsion from the university. The court began its hearing of the suit on Monday, June 6th, with Alkali testifying. The hearing continues on July 6.

Pray these students will present their case in a way that is pleasing to God. Pray God will cause the authorities to recognize that these students have been treated unfairly. Pray all Christians in Nigeria will be salt and light to the Muslims.

Pray for TURKEY
TURKEY (Compass Direct)
The government's Religious Affairs Directorate coordinated a symposium March 15th-17th, in conjunction with a local university to present academic research on missionary activities in Turkey. Presentations at the conference included reports on Christian missionary activities within Turkey, as well as among Turks in Kyrgyzstan, Bulgaria, France, and Germany. It was clear that conference organizers viewed missionary activity at least in part as a security issue, with several professors from the police academy giving presentations. Not a word was published in the Turkish press about the Canakkale symposium. "The aim was apparently not to open it to the public, but just to academic circles," one of the visitors said.

Pray those who attended the symposium will see that missionary activity is not a security threat to Turkey. Pray God will lead each one to personally research the Christian faith and by this means draw them into a relationship with Christ. Pray Christians in Turkey will be both loving and bold in their witness.
# Posted by Alyfireman :: 11:08 AM :: |

---------------oOo---------------
Thursday, June 09, 2005
Because I think its funny and true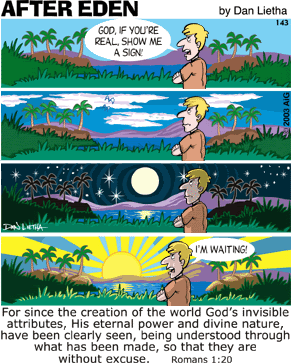 # Posted by Alyfireman :: 9:25 PM :: |

---------------oOo---------------

ACLU blogbrust 6-9-05

Jay has a good post up at Stop the Aclu so stop by there and check it out.

There been a bill introduced by Rep Hostettler, John N. that would make the ACLU less willing to attack freedom of religon for monetary gain. the text of bill states the following:


(a) Civil Action for Deprivation of Rights- Section 1979 of the Revised Statutes of the United States (42 U.S.C. 1983) is amended--

(1) by inserting `(a)' before the first sentence; and

(2) by adding at the end the following:

`(b) The remedies with respect to a claim under this section where the deprivation consists of a violation of a prohibition in the Constitution against the establishment of religion shall be limited to injunctive relief.'.

(b) Attorneys Fees- Section 722(b) of the Revised Statutes of the United States (42 U.S.C. 1988(b)) is amended by adding at the end the following: `However, no fees shall be awarded under this subsection with respect to a claim described in subsection (b) of section nineteen hundred and seventy nine.'.




Contact your goverment officals and tell them to support it. Find contact info here.


This was a production of Stop The ACLU Blogburst! If you would like to join, it is very simple.


Go to our new portal at Protest The ACLU , click where it says "sign up now", and fill out a simple form. This will enable us to send you a weekly newsletter with information, and keep your email private. Current members who have not registered, please do so. There are additional advantages and features that will be available for you there...you can opt to use them, or not. Thank you!
# Posted by Alyfireman :: 3:53 PM :: |

---------------oOo---------------
Wednesday, June 08, 2005
Megadeth is back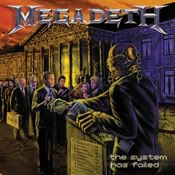 And back in a big way, the latest and what appears to be their finial new release.
The line up for this album is as follows:

Glen Drover
Lead, and Rhythm Guitars

Dave Mustaine
Lead Vocals, Lead, Rhythm, and Acoustic Guitars

James MacDonough
Bass Guitar

Shawn Drover
Drums

While Metallica is struggling to redefine it's sound, Dave and his crew come blazing with both barrels. With heavy hard hitting riffs to mind numbing guitar solos. From the highly political songs (a Megadeth stable) "Black Mail the Universe" and "Kick the Chair" to the autobiographical "Back in the Day" and "Of Mice and Men". This album will leave you gasping for air.

There is one thing about this album that I would have never expected. There are more than a handful of songs in which Dave let's his new found faith in Christ show most notably on "My Kingdom"


The flag that I once planted as a king I abandoned
And now I reclaim this banner by God my sword and my name
In a truce sealed by blood within this metal skin and all that I own
Blood, bone, and courage in my veins and the heart that pumps it

Drink from the chalice and be reborn
And the land with me, it will change and transform

A fighting man sworn to the quest it is the doom of man that they forget
I have awoken the dragon and all around me the mist of his breath
Good and evil, there never is one without the other, his brother
Always there where I least expect it, it will burn me to cinders

The futures taken root in the present sun
Don't look into my heart, least of all your own

No man who is false can win in combat against the truth
When he lies he murders some part of the world, we must find what was lost
Hearth and home, wife and child were not for me, I was not yet done
I never knew how empty my soul was until it was refilled

Mad distemper strikes both beggars and Kings
The Necromancer's hard teachings of war and quest

I am given the right to bear arms and power to meet justice

I have lived through others for far too long,
And carried my guilt, my causes, my sins
I hope in the hereafter when I owe no more to the future
That I can be just a man


This is a must have for any metal head young or old.

Cross posted at Blog Critics
# Posted by Alyfireman :: 11:05 AM :: |

---------------oOo---------------
Tuesday, June 07, 2005
The Gift
Isaiah 53
53:1 Who would have believed what we just heard?
When was the Lord's power revealed through him?
53:2 He sprouted up like a twig before God,
like a root out of parched soil;
he had no stately form or majesty that might catch our attention,
no special appearance that we should want to follow him.
53:3 He was despised and rejected by people,
one who experienced pain and was acquainted with illness;
people hid their faces from him;
he was despised, and we considered him insignificant.
53:4 But he lifted up our illnesses,
he carried our pain;
even though we thought he was being punished,
attacked by God, and afflicted for something he had done.
53:5 He was wounded because of our rebellious deeds,
crushed because of our sins;
he endured punishment that made us well;
because of his wounds we have been healed.
53:6 All of us had wandered off like sheep;
each of us had strayed off on his own path,
but the Lord caused the sin of all of us to attack him.
53:7 He was treated harshly and afflicted,
but he did not even open his mouth.
Like a lamb led to the slaughtering block,
like a sheep silent before her shearers,
he did not even open his mouth.
53:8 He was led away after an unjust trial
but who even cared?
Indeed, he was cut off from the land of the living;
because of the rebellion of his own people he was wounded.
53:9 They intended to bury him with criminals,
but he ended up in a rich man's tomb,
because he had committed no violent deeds,
nor had he spoken deceitfully.
53:10 Though the Lord desired to crush him and make him ill,
once restitution is made,
he will see descendants and enjoy long life,
and the Lord's purpose will be accomplished through him.
53:11 Having suffered, he will reflect on his work,
he will be satisfied when he understands what he has done.
"My servant will acquit many,
for he carried their sins.
53:12 So I will assign him a portion with the multitudes,
he will divide the spoils of victory with the powerful,
because he willingly submitted to death
and was numbered with the rebels,
when he lifted up the sin of many
and intervened on behalf of the rebels."


This was fore told long before Christ was born. What humbles me is God knew what had to be done and the hardship that had to be endured to pay the price for are sins. Yet he came to earth has a man, the very God that created us, now came to earth has His creation to pay the price for all our sins. Kind of make you feel unworthy of such a gift, and it should. There is knowing we can do to earn this gift. God gives it to us freely.
# Posted by Alyfireman :: 9:33 AM :: |

---------------oOo---------------

Prayers for June 7, 2005

"And this I pray, that your love may abound still more and more in knowledge and all discernment, that you may approve the things that are excellent, that you may be sincere and without offense till the day of Christ, being filled with the fruits of righteousness which are by Jesus Christ, to the glory and praise of God" (Philippians 1:9-11).

Thank you for taking time to unite with us in prayer this week!

VOM Web Team

From The Voice of the Martyrs


SAUDI ARABIA (ASSIST News Service)
There have been 46 confirmed arrests of Christians in Saudi Arabia, with some sources citing in excess of 100 Christians arrested, according to International Christian Concern. During the last week of May, there were many arrests made by a joint combination of both regular and "Muttawa" religious police. It was the largest crackdown in several decades in this religiously oppressive country. Saudi authorities ransacked houses and destroyed any Bibles they found. Chittirical John Thomas, an Indian national, was dragged from work by Muttawa authorities, taken to his home, and beaten in front of his maid and 5-year-old son. Thomas' wife, who is five months pregnant, has not heard from her husband since.

Pray God will protect Thomas and all Christian prisoners, holding them safe in the palm of His hand. Pray the international community will rise up in protest against the Saudi government, and bring about the release of those imprisoned for their faith. Pray God, in His loving power, will cause the church to grow and flourish in Saudi Arabia.


INDONESIA (Compass Direct)
Two bombs exploded in a busy market in a refugee village for Christians in Tentena, Indonesia, on Saturday, killing 21 people and injuring 49. The timing of the attack was calculated to inflict the greatest possible damage. One source reported that phone communication was cut off immediately after the explosions and that only two ambulances were available to attend to the wounded. Observers believe the attack could stir up renewed fighting between Christians and Muslims in the troubled province. The bombing may be linked to an earlier raid on a Christian village in Mamasa regency on April 24th. A young man arrested in connection with that incident was carrying documents that revealed a wider terrorist plot to carry out bombings and attacks throughout Indonesia. (Click here)

Pray God will move the hearts of the Christians to have the mind of Christ toward their Muslim persecutors. Pray the power of the Holy Spirit will bring a supernatural spirit of peace to Tentena. Pray God will use this situation for His eternal glory.


ERITREA (Compass Direct)
Police raided a large wedding ceremony in the Eritrean capital of Asmara, on Saturday, May 28th, arresting at least 250 guests, including Benyam Gezae, his bride and the wedding party. Police reportedly contacted the families of all the imprisoned Christians. After detaining the wedding party overnight at the Expo police station, police released most of the prisoners who were found to be members of legally sanctioned churches. However, 70 individuals belonging to the outlawed Protestant churches still remain under arrest. The authorities have pressured these evangelical Christians to abandon their beliefs and return to one of the "legal" churches. "The word on the street in Asmara is that these arrests were direct retaliation for the protest vigil held three days earlier in front of the Eritrean Embassy in Washington, D.C.," one informed source told Compass. The vigil marked the third anniversary of a harsh government crackdown launched in May 2002, against Eritrea's evangelical Christians and other religious minorities.

Pray the imprisoned Christians will know the presence of Jesus with them. Pray they will know that thousands of believers worldwide are crying out to God on their behalf. Pray the Holy Spirit will move in power to overcome the spirit of oppression that pervades the Eritrean government.


INDIA (Compass Direct)
Former employees have accused seven staff members of the Amit Vikas Trust (AVT) in Uttar Pradesh, India, of "running a gang to convert poor Hindus." The complainants had signed up for a training program with AVT in return for employment but were laid off in November 2004. After losing their jobs, they lodged a complaint with police, claiming that the mission had asked for a 20,000 rupee ($465) security deposit. They also accused the staff of beating them and making death threats when they asked for a refund. However, Pastor Yashwant Paul of the AVT said the mission had not asked for a deposit and other villagers had signed a statement saying that no violence had occurred. The case has not yet gone to court.

Pray God will empower the staff members of AVT to be "wise as serpents and harmless as doves" (Matthew 10:16). Pray the truth of the situation will be revealed and publicized. Pray the Lord will convict the complainants of the falsehood of their accusations and lead them to repentance.


KAZAKHSTAN (ASSIST News Service)
Religious communities in Kazakhstan do not yet need state registration,—a requirement imposed by a proposed new law; but a Protestant church in the Caspian Sea port of Aytrau is the latest religious community to be attacked because it does not have registration. Pastor Nurulbek Jagalsbayev is facing administrative punishment for leading a church without state registration, a restriction not required under current legislation, but which would come into effect if the new law is passed. The head of the Association of Religious Organizations told Forum 18, "Even if Jagalsbayev is let off with just a warning, we should not (accept) that a person who has not broken the law is being presented as a law-breaker." In another incident a local administration chief has "banned" a registered Protestant church apparently because its leaders failed to show him what he thought was due respect.

Pray Pastor Jagalsbayev's Christlike behavior will soften the heart of the prosecutor in Aytrau. Pray the official who demanded special respect will have a change of heart and open the legally registered church. Pray that as Christians around the world join in prayer, the administrative authorities in Kazakhstan will allow all Christians to worship freely.
# Posted by Alyfireman :: 9:30 AM :: |

---------------oOo---------------
Monday, June 06, 2005
ACLU is up to something

Crossposting this from Stop the ACLU, sorry it's late.

The American Civil Liberties Union has been shredding some documents over the repeated objections of its records manager and in conflict with its longstanding policies on the preservation and disposal of records.

The matter has fueled a dispute at the organization over internal operations, one of several such debates over the last couple of years, and has reignited questions over whether the A.C.L.U.'s own practices are consistent with its public positions.

The organization has generally advocated for strong policies on record retention and benefited from them, most recently obtaining and publicizing documents from the government about prisoners at Guantánamo Bay, Cuba.

The debate over the use of shredders is reminiscent of one late last year over the organization's efforts to collect a wide variety of data on its donors, even as it criticizes corporations and government agencies for accumulating personal data as a violation of privacy rights.

Janet Linde, who oversaw the A.C.L.U.'s archives for over a decade until she resigned last month, raised concerns in e-mail messages and memorandums for over two years that officials' use of shredders in their offices made a mockery of the organization's policy to supervise document destruction and created potential legal risks.

"It has been shown in many legal cases over the years, including the Enron case, that if a company has an established and documented shredding program they will not be liable if documents at issue in a lawsuit are found to have been destroyed," Ms. Linde wrote in a 2003 memo. "If, however, the means for unauthorized shredding is present in the office we cannot say that we have made a good faith effort to monitor and document our records disposal process."

Ms. Linde said she was disturbed that her correspondence had become public and declined to comment further. A spokeswoman for the organization, Emily Whitfield, declined to answer specific questions but made the following statement: "The A.C.L.U.'s records management policies have always been of the highest standards in keeping with, if not more stringent than, those of other nonprofits."

The organization refused to address which documents were being shredded, among other questions.

Shredding has become more closely controlled after scandals arising from questionable record-keeping have rocked the corporate world.

Congress has amended the criminal code to permit fines and jail sentences for those who alter, destroy, mutilate or conceal documents with the intent of preventing their use in official proceedings. Many lawyers for companies and nonprofit entities have advised their clients to enact strict policies on records management.

The A.C.L.U. allows for document shredding but has policies for recording what is destroyed that predate recent changes in the law, and it has historically placed great emphasis on preserving records. Its policy lists specific types of documents - including duplicate records and outside publications - that can be destroyed without creating a record. For other materials, employees are instructed to contact the archives.

In a speech to the Society of American Archivists last year, Nadine Strossen, the president of the A.C.L.U., said that at its inception in 1920, the civil liberties group arranged for the New York Public Library to archive its records and those of its predecessor organization.

"I'm especially impressed by how prescient the A.C.L.U.'s founders were in understanding the importance of preserving our organizational records," Ms. Strossen said.

In 2003, the Archivists Round Table of Metropolitan New York gave Ms. Linde an award for her role in helping draft and enact a public records law after Rudolph W. Giuliani, the former mayor of New York, moved records from his administration to a private institution.

Under the A.C.L.U.'s policy, employees deposit documents, disks and other files slated for destruction in locked bins in their departments. They are required to complete and sign a form next to the box, describing what they have deposited.

A contractor collects the bins each month and shreds the contents under the watch of an A.C.L.U. records manager, who then countersigns the sheets to confirm the destruction.

There is more.

So when Anthony D. Romero, the executive director of the organization, casually mentioned to a group of employees in 2002, about a year after his arrival, that he had a shredder in his office, they were shocked, said two former employees who did not want their names used because they feared it would interfere with future employment. Mr. Romero was told it was a violation of policy, the former employees said, but no one pushed the issue.

That encounter came several months after the New York attorney general's office had begun an inquiry into security breaches on the A.C.L.U.'s Web site that had resulted in leaks of information about donors and members. The organization is sensitive to such leaks, given past government scrutiny of its membership.

"As an advocacy organization dedicated to protecting privacy," Ms. Whitfield said on Friday, "we take very seriously the confidentiality of our donor records and have policies in place to ensure proper document management procedures."

To end the attorney general's inquiry in December 2002, Mr. Romero signed an agreement that obliged the organization to strengthen its online and computer security and pay a $10,000 fine, a cost covered by the company that manages their Web site, where the problems originated.

The organization hired Richard M. Smith, an Internet and computer security expert, to examine its practices and offer suggestions for improvement. Among other things, he recommended that shredders be installed in every department to make document disposal more convenient.

In a July 2002 e-mail message to Barry Steinhardt, an A.C.L.U. lawyer who specializes in matters of privacy, Ms. Linde objected to that recommendation, saying that Mr. Smith seemed unaware of the organization's document retention policy. She noted that she had asked to sit in on his audit but had been excluded.

Employees began noticing shredders next to copiers throughout the organization in early 2003, according to e-mails.

Ms. Linde wrote a memorandum voicing her concerns, so the A.C.L.U. sought advice from the law firm that handles its real estate matters in Washington, D.C. The firm forwarded a report that echoed many of Ms. Linde's points, and several shredders were removed, according to memorandums.

Mr. Romero kept his shredder, as did Alma Montclair, the director of administration and finance, according to those memorandums. Later, records managers noted that the accounting and human resources departments had shredders, and, more recently, that Donna McKay, the A.C.L.U.'s director of development, had one, too.

To track what was being destroyed on those machines, the records managers attempted to impose a system similar to the one used for the locked bins, putting document destruction sheets next to all the shredders except Mr. Romero's about a year ago. Employees in the departments with the shredders signed the sheets, according to a memorandums, but rarely noted what they were shredding.

In January 2004, an employee found bags of shredded documents outside a freight elevator and alerted the archival staff. "We really need to get this shredding documented if there is that much of it going on," Ms. Linde then wrote to David Baird, who worked with Ms. Montclair.

Mr. Baird responded that he knew nothing about the bags and defended the shredding of documents with Social Security numbers, salary information and other information in Ms. Montclair's administration and finance department.

"It is not clear to either Alma or I the specific reasons why shredding these clearly confidential documents needs to be reported to you," Mr. Baird wrote in an e-mail message.

Ms. Linde wrote back, "This is the kind of thing that gets companies and organizations into lawsuits."

She was eventually told that the shredded documents in the bags were résumés from the human resources department, a memorandum said.

Ny Times article
# Posted by Alyfireman :: 10:38 PM :: |

---------------oOo---------------

I'm I wrong here...

I ran across this while surfing. If you read the story the police use a taser to get a belligerent woman out of her car. This lady knew she was for one speeding, and two her lisence was suspended. So instead of cooperating with police she fights and arguees and is evening calling for back up on her cell phone. Here are the videos tell me were I'm wrong.
# Posted by Alyfireman :: 10:19 PM :: |

---------------oOo---------------
Saturday, June 04, 2005
One more

Battle Axe

You preferred a weapon with 90% power over speed and 27% range over melee.


You use a Battle Axe.

The heavy, double-headed end of a battle axe is not a good thing to stand
in front of. The considerable leverage and length of a battle axe make
its wielder a force of nature on the battlefield. Your enemies will be cleft in twain by the mighty blows of your axe.

My test tracked 2 variables How you compared to other people your age and gender:
| | |
| --- | --- |
| | You scored higher than 99% on power |
| | You scored higher than 19% on range |











Again its all Flannel's doing.
# Posted by Alyfireman :: 9:46 AM :: |

---------------oOo---------------
Friday, June 03, 2005
Quiz thingie



Blame Flannel for this one. ;)
# Posted by Alyfireman :: 9:53 PM :: |

---------------oOo---------------
Thursday, June 02, 2005
Dawn X. Moon

I'm going to try my hand at something new, music reviews. Ok, I know what your thinking, what qualifies a fireman too do music reviews. Well quite frankly noting, just a deep love for music. So with that being said….


Dawn Xiana Moon:



Folk music is usually not my thing. But Dawn is quite a talented young lady. You can tell that with every song she revealing a part of herself. I really don't know what else to say. Go check her stuff out. She has a few MP3's you can download, but do me a favor if you like her stuff, buy her CD, I promise if you won't be sorry.

Crossposted at Blog Critics

I've bumped this up to the top and I'm asking anyone reading this to please read my review at Blog Critics thanks.
# Posted by Alyfireman :: 1:00 PM :: |

---------------oOo---------------

ACLU blogbrust 6-2-05

This week's Stop the ACLU blogburst is "What do you dislike most about the ACLU". Now, where as the ACLU gives you tons of reason to dislike them for me the choice is easy.

Some people maybe surprised that the fact that the ACLU is on a witch-hunt, against the Christian First Amendments rights. Christ himself says:


Matt. 5:43-45
5:43 "You have heard that it was said, 'Love your neighbor' and 'hate your enemy.' 5:44 But I say to you, love your enemy and pray for those who persecute you, 5:45 so that you may be like your Father in heaven, since he causes the sun to rise on the evil and the good, and sends rain on the righteous and the unrighteous.

Luke 6:22
6:22 "Blessed are you when people hate you, and when they exclude you and insult you and reject you as evil on account of the Son of Man!

John7:7
7:7 The world cannot hate you, but it hates me, because I am testifying about it that its deeds are evil.

John 15:18-21
15:18 "If the world hates you, be aware that it hated me first. 15:19 If you belonged to the world, the world would love you as its own. However, because you do not belong to the world, but I chose you out of the world, for this reason the world hates you. 15:20 Remember what I told you, 'A slave is not greater than his master.' If they persecuted me, they will also persecute you. If they obeyed my word, they will obey yours too. 15:21 But they will do all these things to you on account of my name, because they do not know the one who sent me.


So from Jesus' own teaching it should not come to a surprise to Christians that there are people in this world that hate us, just flat out hate us. I'm not saying that there aren't times when some among us deserve it, and are constantly making us look like loud mouthed bigots. But the truth of the matter is people are afraid of what the future holds. OK, let me get back on topic.

What I dislike most about what the ACLU is the fact that they defend people like NAMBLA and these people that want to have fake sex with children. All in the defense of free speech. Now I agree that free speech applies to everyone, even if they are spewing the most vile, hate filled garbage you can imagine. But freedom of speech also has to be held responsible. For the same reason you can not go into a crowed movie theater and yell FIRE, just to watch the stampede. This is the same reason that free speech cannot and most not interfere with the rights of those among us that cannot defend themselves. OUR CHILDREN. All this and I never touched the fact that they support abortion as a form of birth control. I'll have to save that for another time.
# Posted by Alyfireman :: 12:59 AM :: |

---------------oOo---------------